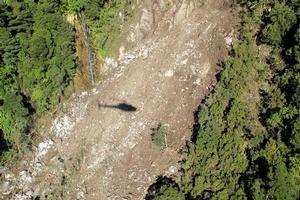 After-shocks measuring over five on the Richter scale are rocking Southland this morning after Wednesday's 7.8-magnitude monster.
According to GNS science, there was a quake at 4.13am this morning that measured 5.3 on the Richter scale. The quake struck about 120km west of Tuatapere and had a focal depth of 30km.
Just over an hour later, at 5.27am, a quake measuring 5.6 on the Richter scale struck 130km north-west of Tuatapere and had a focal depth of 12km.
Then at 9.36am a quake measuring 4.4 on the Richter scale hit 100km west of Te Anau with a focal depth of 5km.
At 10.18am a larger quake measuring 5.5 on the Richter scale and hit 150km west of Tuatapere.
Some of the after-shocks were felt throughout Southland, including Invercargill and Queenstown.
Meanwhile, more than 200 insurance claims have been filed by Otago and Southland residents and thousands more are expected.
But experts say the damage could have been much worse.
The 7.8-magnitude "rolling" quake - centred on Dusky Sound and believed to be the biggest since 1931 - struck at 9.22pm, breaking windows and cracking ceilings across the region.
It released the equivalent energy of 500 million tonnes of TNT, 25,000 times more powerful than the atomic bomb dropped on Nagasaki in 1945.
Ida Valley resident Rebecca Flannery reported "half a dozen" cracks up to 60cm long appearing in her mud-brick house after Wednesday's big earthquake.
"It is the earthquake area down here ... They are nothing new but this one was a fair big one," she said.
Earthquake Commission insurance manager Lance Dixon said 250 claims had been lodged by last night, with a further "1500 to 2500" expected in coming weeks.
Hugh Morris, of Auckland University's civil and environmental engineering department, said if the quake had struck closer to bigger population centres there would probably have been deaths.
"The 1931 Napier earthquake is still our largest natural disaster and this earthquake was the same size.
"If it had happened in a built-up area we definitely would have had people die."
Institute of Geological and Nuclear Sciences geologist Phil Glassey said if the shake had hit earthquake-prone Wellington during the day, "hundreds of people would have been killed".
Both Wednesday's quake and the Napier earthquake were at shallow depths - 20km for Napier, 12km in Dusky Sound.
Anything above 40km is regarded as shallow, but earthquakes can occur at depths of up to 400km.
Many Southland residents reported feeling seasick during the earthquake, but that was to be expected, Mr Morris said.
"Because it's a shallow event the surface waves will be quite significant. They create the rolling motion."
Aerial surveys yesterday revealed little damage, apart from several landslips in the Dusky Sound area of Fiordland, Neil Cruickshank of Southland Civil Defence said.
"This was a very large earthquake and it will have shaken many people out of complacency."
Department of Conservation Te Anau acting area manager Andrew Cudby said staff on Resolution Island near the epicentre were "shaken but not stirred".
A handful of registered walkers in the Fiordland area were expected out last night, and tracks in the area would be inspected in the coming months.
GNS geologist Dr Simon Cox, who flew over the area yesterday, said he was "puzzled" by the lack of slips compared with the August 22, 2003, quake in Doubtful Sound, just north of Wednesday's epicentre.
Mr Glassey said that despite the magnitude and shallow depth of the quake, its main thrust was sent in a southerly direction, lessening the impact.
- With NZ Herald Staff