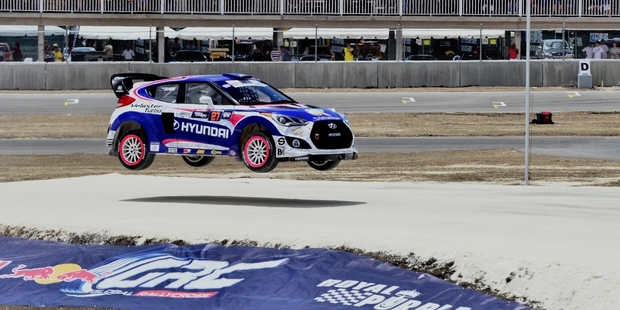 With the drop of the green flag in her heat race at Top Gear Festival Barbados this week, New Zealander Emma Gilmour became a trailblazer in Red Bull Global Rallycross - becoming its first female driver in the series' fourth year of competition.
After earning a rank of 12th in seeding, Gilmour finished fourth in a heat race that saw her go up against established stars Tanner Foust and Brian Deegan in her Rhys Millen Racing Hyundai Veloster.
Unfortunately her Veloster suffered mechanical problems before she even hit the track in competition so she didn't make it to the final on Monday (NZ time).
"I kept improving each time we went out despite small mechanical issues and I will have a much better idea of what to expect next time," said Gilmour.
Her next event is the X-Games in Texas in three weeks but she'll be returning to New Zealand to run her Suzuki dealership in Dunedin and compete in the next round of the New Zealand Rally Championship in Christchurch.
Scott Speed overcame a mechanical failure to win the Global Rallycross event at Barbados. It was the third career victory in the series for Speed, who transferred to the final via heat victory in the debut of the Volkswagen Andretti Rallycross programme.