Keira Knightley talks to Des Sampson about her new musical role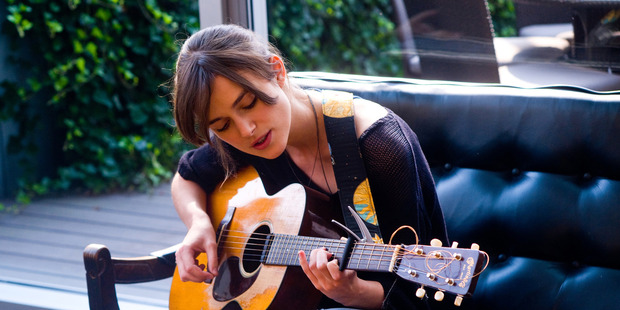 Until now, Keira Knightley's only musical connection has been her hubby, James Righton, from the Klaxons. But that's all changed with her role as a singer-songwriter in romantic comedy Begin Again.
Yes, she did ask Righton -- a founding member of Brit new rave band Klaxons -- for his help. He just wasn't much use.
"I asked him for some tips because I had to fake playing guitar for the role, so he tried to teach me. But he failed, miserably! He had absolutely no sympathy at all about my failure to learn the songs properly, though, or my inability to sing and play guitar at the same time," she recounts, irritably. "Although we're still together, it could well have ended up with me murdering him. I wonder if that would have been the first time anyone was killed by a guitar?"
Despite her spouse's indifference, Knightley did eventually master playing guitar and singing in Begin Again, with her voice a surprisingly enchanting, fragile, folky mix of Suzanne Vega and Joni Mitchell.
"Oh, really? Thanks, those are good references," she coos. Knightley sang in a 1940s style in Edge of Love. But Begin Again is a leap.
"I'd never done anything like this before, or to this degree, so it was quite hard. Singing's definitely not my natural way of communication.
"We basically went into the studio and tried to figure out what worked for me, which took a long time."
"Eventually, we managed to find a way of me portraying her that was very much based on her character and the idea that she's not a performer and doesn't like singing -- unless it's to her cat or herself -- because she's actually quite shy."
Set in New York, Begin Again tells the tale of Gretta and her long-time boyfriend Dave (Maroon 5's Adam Levine, appearing in his first film), who were college sweethearts and now songwriting partners. Dave is offered a lucrative record deal, but his newfound fame and fortune goes to his head and he soon strays, leaving a lovelorn Gretta to fend for herself.
Heartbroken, she's set to jet back home to England, when a life-changing, chance encounter with a downbeat, drunken, former record-label exec (Mark Ruffalo), at an open-mic night changes everything for both of them. The duo hatch a plan to record her songs live, on the streets of New York, which rescues him from the abyss and delivers her from despair.
Watch the trailer for Begin Again here:
"I wanted to do a film about hope because I was very aware that, at the end of Anna Karenina, I'd spent the last five years doing work that was very dark and didn't have much hope," says Knightley.
"For my own sanity, I wanted -- I needed -- to do something very different.
"Often, if you're looking for that sense of hope in a film, then a romantic comedy is where you're going to find it, really," she suggests. "But I think hope is a very difficult thing to put into films. You always walk a very fine line between it being optimistic and sentimental -- or hugely cheesy."
Begin Again is written and directed by John Carney, whose previous film Once was also an enchanting semi-musical.
Like Once, it's also peppered with achingly beautiful songs and features compelling performances by Knightley and the gruff, no-nonsense Ruffalo.
Aside from a desire to appear in a cheerier film, there's another reason Knightley tackled the challenging role -- it gave her the chance to peek into her husband's life as a musician.
"I've been on tour with the Klaxons before and seen what it's like to be in a band, so that's demystified things a bit. But I'm not somebody who's naturally drawn to music, or knows much about it," she admits. "So, part of the reason that I wanted to do this film was to try and get into that mindset because obviously I'm married to a musician, have lots of friends who are musicians, a brother who was always in bands and a sister-in-law who was a virtuoso violinist.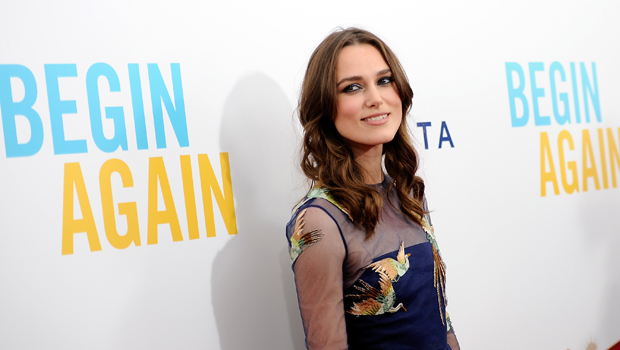 "But even though I'm surrounded by music and musicians, I'm not musical in any way. I don't really have a favourite album, or band and I don't even have a play-list on my phone," she says. "Music's not really a place where I naturally go to. As a teenager, I was reading Pride and Prejudice, rather than listening to music or writing lyrics. That's why I ended up acting."
So no his-and-hers duets albums in the offing then?
"No way! That will definitely never happen. That really would lead to one of us murdering the other."
Who: Keira Knightley
What: Begin Again
When: Opens at cinemas on Thursday
- TimeOut