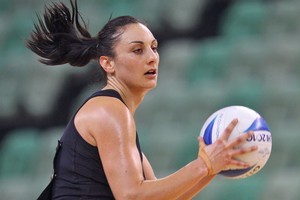 The New Zealand team have yet to strike gold after three days at the Commonwealth Games but they're getting closer after winning four silver and a bronze overnight.
The day three haul moves the team tally to seven medals in Delhi all but one of those coming from the velodrome and pool.
It wasn't all good news for New Zealand with the mixed badminton team, squash players Joelle King and Jaclyn Hawkes, the women's table tennis team, boxer Angus Donaldson, Greco-Roman wrestler Stephen Hill and the archery teams all being eliminated from competition.
For all the gossip in Delhi and a wrap of the day's action check out the Delhi podcast from the NZ Herald crew covering the Commonwealth Games. Listen here.
Highlights from day three:
Silver double in the pool
The women's freestyle relay team and backstroker Gareth Kean ended the New Zealand swim team's medal drought with silver medals performances.
Headbutt ruling gives Kiwi bronze
Simon van Velthooven last night rode through the back door to claim bronze in a super-charged and controversial keirin final after the provisional winner was disqualified for dangerous riding.
Silver again on the track
Outstanding prospect Lauren Ellis added to BikeNZ's medal haul with silver in last night's points race.
Hamill adds another silver to NZ tally
Jess Hamill added to New Zealand's medal tally overnight when she finished second in the parasport shot put.
Aussie wrestler apologises for rude gesture
Australian wrestler Hassene Fkiri, stripped of a silver medal after making a rude gesture to judges during his wrestling final, has apologised to officials.
Full list of NZ results on day three
Medal update:
Despite adding four medals to their tally on day three the gold-less New Zealand team slipped a few spots on the table to 12th behind the likes of Nigeria, Bangladesh and Kenya. Australia are well out in front with 21 gold and 44 medals in total.
What to watch for - Day 4:
Kiwis in action schedule

Medal hope
We were right yesterday about the cycling point races, which makes up for our Burmester/Shanks predictions on the first two days. Expect more medals from the cycling track tonight especially from the men's pursuit team.
Don't miss
Netball:
Silver Ferns v England
After dealing to Papua New Guinea and the Cook Islands, the Silver Ferns come up against their first real test when they face England this afternoon (4.50pm).
Swimming:
After grabbing a silver medal in the 200m backstroke yesterday Gareth Kean returns to the pool for the 100m heats alongside Daniel Bell. Glenn Snyders, Moss Burmester, Hayley Palmer and Emily Thomas will also be gunning for semifinal and final spots. (3.55pm)
Athletics:
The first full day on the track and field commences with Brent Newdick featuring in the opening day of the decathlon and Nikki Hamblin running in the women's 1500m heats (from 5.25pm).
Tennis:
Marina Erakovic and Rubin Statham both have quarterfinal clashes today against Indian opponents as they try and earn a place in the final four (from 5.30pm).
Quote of the day:
"To get a medal for cycling after all the pressure, reading all the articles about how the cyclists are medal hopes, [is fantastic].
"We'll have a few turps tonight and talk some shit."
Kiwi bronze medallist Simon van Velthooven

- Herald online