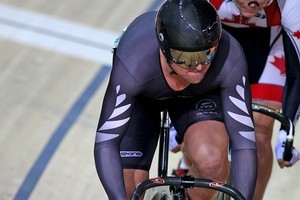 Simon van Velthooven last night rode through the back door to claim bronze in a super-charged and controversial keirin final.
It was New Zealand's second medal at the velodrome in the space of an hour after Lauren Ellis won silver in the points race.
Van Velthooven crossed the line fourth but was elevated to third when provisional winner Azizulhasni Awang was disqualified for dangerous riding.
The 21-year-old Palmerston North cyclist was in great position on the final bend before getting caught in a Malaysian sandwich. Josiah Ng overtook him on the high side and Awang barrelled through underneath, headbutting van Velthooven up the track.
Van Velthooven, who rides professionally in Japan, was put through the whole gamut of emotions.
"It was initial disappointment then I waved my arms around to get the commissaire's attention," van Velthooven said.
"I kind of knew it was going to get reversed. It was good to see them lean the right way today after me being scrubbed in the past for doing the same thing.
"I learned my lesson and rode smart and rode clean. It paid off."
Ng ended with gold, England's David Daniell took second. Van Velthooven said he felt little sympathy for Awang, believing he could have passed Daniell if it weren't for the shove.
"The Malaysians do that a lot," he said.
"Aziz finds gaps that nobody else wants to go through, but when he finds gaps and hinders other riders by pushing them around, it's not right.
"It used to be and it's okay in Japan, but not on the boards.
"He hindered my result, I could have come around David and won."
The keirin is still a bit of a novelty in New Zealand, but it is huge in Japan. Van Velthooven said his racing there had prepared him for any eventuality.
"It's helped me read the races 100 per cent. When it's full gas with two laps to go, it's all slow motion for me, I can see who's doing what."
With his parents having flown in to India for the event, van Velthooven, whose Commonwealth programme started and finished with the keirin, has some plans in place for the evening.
"It's a great feeling.
"The Commonwealth Games is a great event, you're representing your country for national pride.
"To get a medal for cycling after all the pressure, reading all the articles about how the cyclists are medal hopes, [is fantastic].
"We'll have a few turps tonight and talk some shit."