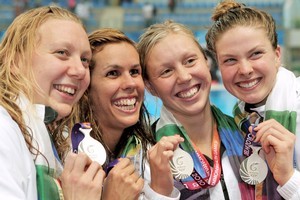 New Zealand grabbed five more medals today to take their haul to five silver and two bronze, but the elusive first gold remained out of reach at the Commonwealth Games in New Delhi.
The track cycling team provided another silver and bronze to lift their own medal tally to four.
However, swimming also entered the act with a brace of silvers, while Southlander Jess Hamill got the track and field campaign off to a flying start by being runner-up in the para shot.
In the pool, Wellington backstroker Gareth Kean, who turned 19 yesterday, gave himself a belated birthday present with a record-breaking performance in the 200m.
After qualifying eighth in the morning, he overcame the handicap of an outside lane to finish behind England's James Goddard, clocking one minute 57.37 seconds to eclipse his own New Zealand mark.
The women's 4x200m relay quartet of Lauren Boyle, Penelope Marshall, Amaka Gessler and Natasha Hind got a silver and a New Zealand record of their own, as they touched behind Australia in 7min 57.45sec.
Freestyler Hayley Palmer almost added to the haul, the Aucklander missing out by just 0.09sec in the women's 100m.
On the cycle track, Ashburton rider Lauren Ellis showed plenty of courage to snare silver in the women's points race behind Australian Megan Dunn.
However, having been in contention for victory late in the contest, she came away with mixed emotions.
"I'm so proud to get the silver medal but you always go out wanting to win the race," she said.
In the kierin, Palmerston North sprinter Simon van Velthooven was awarded the bronze amidst drama and controversy.
Van Velthooven crossed the finish line fourth, but Malaysian Azizulhasni Awang was adjudged to have used his elbows illegally on him and was relegated from first to last.
The officials' decision meant a first international podium for van Velthooven.
"I've had that many fourth places and that many relegations," he said. "It's great."
Elsewhere, the men's Black Sticks made it two out of two by beating South Africa, while squash player Joelle King came within a whisker of pulling off an upset over England's Alison Waters in a quarterfinal clash.
King, the 12th seed, was the underdog against the third seed and world No 4, but she took her opponent to five sets.
However, it was neither close nor lengthy for the tennis pair of Marina Erakovic and Rubin Statham as they made the quarterfinals of their respective singles events.
Both will now face top Indian opposition -- women's second seed Sania Mirza and men's No 1 seed Somdev Devvarman.
Statham, the sixth seed, won a 53-minute first set against Colin Fleming 6-4 before the Scot retired.
Erakovic, the No 8 seed, spent even less time on court, taking just 34 minutes to breeze past Bermuda's Jacklyn Lambert 6-0 6-0.
Unfortunately for some of Erakovic's Games team-mates, she wasn't the only one indulging in some whitewashing.
The mixed badminton team suffered the indignity of being blanked 5-0 by Singapore, who took every set on offer, and they now face even more daunting foes in Malaysia in the quarterfinals.
Palmerston North middleweight boxer Angus Donaldson also felt the pain of a hefty defeat to love.
Donaldson's excellent start yesterday in the 60kg division via a 7-1 victory became a memory when he was outpointed 6-0 by Northern Ireland's Mark O'Hara.
- NZPA