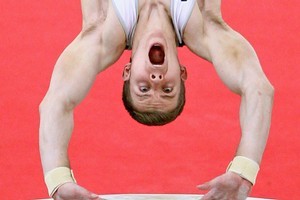 New Zealand results on day three at the Commonwealth Games in New Delhi:
Archery:
Men's compound team elimination, New Zealand (Stephen Clifton, Shaun Teasdale, Tony Waddick) bt Cyrpus 230-221, quarterfinals, New Zealand lost to India 225-226; women's compound team quarterfinals, New Zealand (Amanda McGregor, Stephanie Croskery, Anne Mitchell) lost to England 221-227.
Athletics:
Men's 5000m final, Adrian Blincoe 14min 03.07sec 11; Women's para sport shot put final, Jess Hamill 979 (7.17m) 2.
Badminton:
Mixed teams group match, New Zealand 0 Singapore 5 (Joe Wu lost to Derek Wong 15-21 11-21,
Michelle Chan lost to Fu Ming Tian 10-21 16-21, Donna Halliday/Henry Tam lost to Chayut Triyachart/ Neo Yuyan 12-21 14-21, Tam/Oliver Leydon-Davis lost to Hendri Kurniwan/Hendra Wijaya 7-21 14-21, Halliday/Danielle Barry lost to Yao lei/Sari Shinta Mulia 10-21 16-21).
Bowls:
Men's triples group matches, New Zealand (Shannon McIlroy, Andrew Todd, Richard Girvan) bt Brunei 10-3 10-3, lost to Niue 6-8 13-4 1-2; women's pairs group match, New Zealand (Jan Khan, Manu Timoti) lost to Canada 7-9 8-7 2-3; men's pairs group matches, New Zealand (Danny Delany, Richard Collett) bt Malta 7-10 22-0 2-1, bt Falkland Islands 21-6 14-8, women's triples group matches, New Zealand (Dale Lang, Genevieve Baildon, Karen Coombe) bt Northern Ireland 10-3, 16-4, bt Niue 23-3 15-11.
Boxing:
Qualification bout, 60kg, Angus Donaldson lost to Mark O'Hara (Northern Ireland) 0-6.
Cycling, track:
Men's keirin, first round, Simon van Velthooven 6th fastest, semifinal heat 1 1st, final 3rd; women's 25km points race, Lauren Ellis 40 pts 2, Joanne Kiesanowski 14 pts 6, Rushlee Buchanan 9 pts 7; men's 40km points race, Shane Archbold did not finish, Aaron Gate 24pts 5, Peter Latham 8pts 9; men's team pursuit qualification, New Zealand (Sam Bewley, Peter Latham, Westley Gough, Jesse Sergent) 4min 03.443sec 2 (through to final), men's sprint qualification, Eddie Dawkins, Sam Webster through to quarterfinals, Ethan Mitchell eliminated.
Gymnastics:
Men's individual all round final, Patrick Peng 78.750 pts 13, Misha Koudinov 83.000 pts 6; women's individual all round finals, Jordan Rae 48.700 12, Holly Moon 47.300 19, Briana Mitchell 46.050 23.
Hockey:
Men's pool match, New Zealand 4 (Hayden Shaw, Phil Burrows, Stephen Jenness, Nick Wilson) South Africa 2. Halftime: 4-1.
Squash:
Women's singles, quarterfinals 12-Joelle King lost to Alison Waters (England) 10-12 11-9 5-11 12-10 2-11, 7-Jaclyn Hawkes lost to Jenny Duncalf (England) 8-11 4-11 10-12.
Swimming:
Men's 200m backstroke, heats, Daniel Bell 2min 02.34sec 12th fastest, Gareth Kean 2:00.86 8th fastest, final, 1:57.37 (NZ record) 2; women's 100m butterfly, heats, Natalie Wiegersma 1:01.17 13th fastest, semifinals 1:00.08 11th fastest; women's 100m freestyle, final, Hayley Palmer 54.68 4; women's 100m backstroke, final, Melissa Ingram 1:01.14 7; men's 100m breaststroke, final, Glenn Snyders 1:01.39 6; women's 4x200m relay (Lauren Boyle, Penelope Marshall, Amaka Gessler, Natasha Hind) 7:57.46 2.
Synchronised swimming:
Solo technical routine, Kirstin Anderson 36.167 pts 6; duet technical routine Kirstin Anderson, Caitlin Anderson 35.833 pts 5.
Table tennis:
Women's teams quarterfinals, New Zealand (Jenny Hung, Karen Li, Yang Sun, Annie Yang) lost to Malaysia 2-3.
Tennis:
Women's singles, second round, 6-Marina Erakovic bt Jacklyn Lambert (Bermuda) 6-0 6-0; men's singles, second round, Rubin Statham bt Colin Fleming (Scotland) 6-4 rtd.
Weightlifting:
Men's 69kg, Mark Spooner, snatch 123kg, clean and jerk, 157kg, total 280kg 6.
Wrestling:
Men's Greco-Roman 84kg, Stephen Hill lost to Dean van Zyl (South Africa) 7-1.
- NZPA