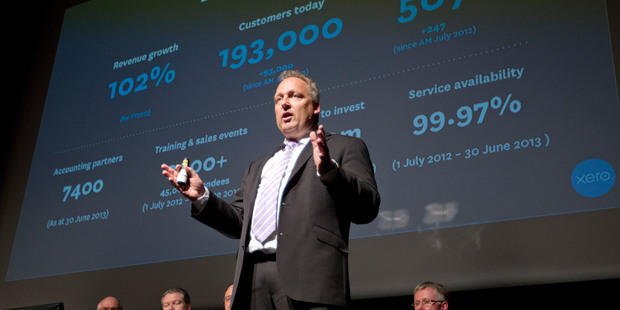 Cloud accounting software provider Xero has become a $3 billion company.
After opening at $22.10 this morning, shares in the Wellington-based firm surged 14 per cent to hit $25.20 this afternoon, valuing the business at $3.2 billion.
The company is now worth more than casino and hotel operator Sky City and lines firm Vector.
Xero's announcement this week that it had raised $180 million of new capital from high-profile investors including Facebook billionaire Peter Thiel sparked a major rise in the stock.
Forsyth Barr analyst Andrew Harvey-Green said today's rally was being driven more by the capital raising announcement than the news from the United States today that a deal on that country's debt ceiling and budget had been reached, which boosted US equities.
"The US is the key to Xero being able to justify its share price so if US investors are going in it gives some confidence to that viewpoint," Harvey-Green said.
Chief executive Rod Drury said on Monday that the new capital was "money in the tank" for Xero to build its United States-based management team.
"We find talent follows money and talent follows talent ... it's a massive war chest and it means we can hire the very best people," Drury said.
The company expects operating revenue for the six months to September 30 to exceed $30.3 million, up 84 per cent from the year before.
Xero's paying customers grew to 211,300 by September 30, 89 per cent up on the same time a year earlier.
In its last annual result, the company posted a net loss of $14.4 million for the year to March 31.
This grew from a loss of $7.9 million a year earlier.