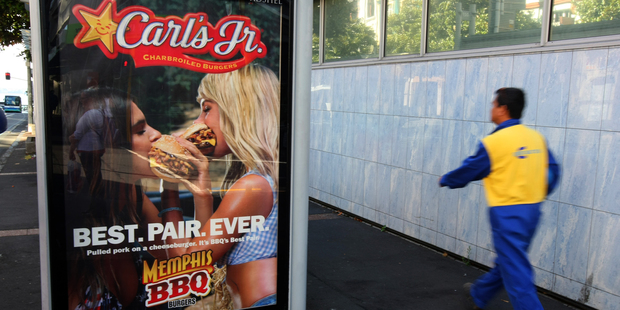 Restaurant Brands says strong sales at its new Carl's Jr stores, KFC and Pizza Hut helped offset a decline in revenue at Starbucks in the firm's full year result.
Total group revenue for the year to February 28 rose 1.3 per cent on the prior year to $312.8 million, the company said in a statement.
Full year net profit came in at $17.7 million, which was a drop of 3.9 per cent on the previous year.
Restaurant Brands said the two Carl's Jr stores the company opened during the last three months of its financial year contributed $1.9 million in revenue, but earnings were negative by $500,000, as forecast, due to set-up costs.
The company, which opened its third Carl's Jr store on Auckland's Queen St last month, said all three stores were trading very strongly.
Sales at the Mangere and Palmerston North Carl's Jr stores had eased from their opening levels - when the sites produced revenue of $100,000 each during their first week of operation - but remained ahead of forecast, Restaurant Brands said.
Carl's Jr is operated in New Zealand by two separate franchisees - NZX-listed Restaurant Brands and Forsgren NZ, which is part-owned by former All Black Michael Jones.
The company said Pizza Hut's $4.90 pizza campaign had given the brand "renewed momentum" in the highly competitive pizza market.
Despite finishing the year with 14 less Pizza Hut stores than in the prior period, Pizza Hut's sales rose 5.3 per cent on the previous year to $47.9 million, while earnings before interest, tax, depreciation and amortisation (ebitda) rose 80.8 per cent to $3.8 million, Restaurant Brands said.
KFC sales rose 0.3 per cent to $237 million, while ebitda fell 0.6 per cent on the previous year to $45.3 million.
The company said input costs at the fried chicken brand remained steady, but there had been some pressure on labour costs.
Starbucks continued to be the underperforming segment of the business, with sales - impacted by the closure of six stores during the year - falling 5.1 per cent to $25.1 million.
Same store sales at the coffee brand fell 1.7 per cent on the prior year, while ebitda fell 21.8 per cent to $2.9 million.
Restaurant Brands said there were now 29 Starbucks stores operating - six less than a year ago.
The company declared a full year dividend of 16 cents per share.
Restaurant Brands' shares were unchanged at $2.72 in early trading.