Reporter Jacob McSweeny was invited to the International Pilot Academy to get in the cockpit and take a flying lesson. Here's how it went.
The plane looks bigger from the hangar when flight instructor Shaun Seddon points to it and says that's what we'll be flying in.
The International Commercial Pilot Academy had been trying to get me on one of these trips for a coupe of months now. Come have a go at flying a plane, they said.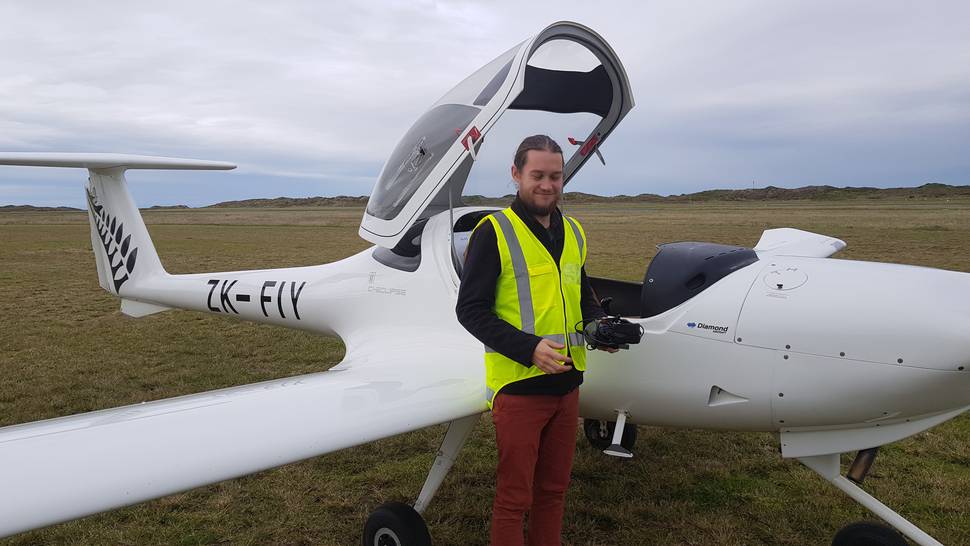 I agreed to it and within a few days I was walking through a hangar with Shaun, as he explained what was about to happen.
I put on the hi-viz gear and listened to the instructions. One part of my brain was listening intently and the other was trying to grapple with the fact that at some point he'll hand the controls over to me and I'll be flying us.
I enjoy flying as a passenger because it is easy. You sit there and enjoy a good book while very friendly people offer you food and drink. They even clean up after you.
This was going to be very different.
The interior of the plane, a Diamond DA20 C1 Katana, was smaller than my Toyota Corolla. Shaun explained some of the basics about what the various parts of the plane do before we squeezed into the two seats.
Shaun liaised with ground control about when we would be able to take off. We watch pilot students landing. It's a little overcast and a little windy, but good enough to fly.
Then it's our turn to go and we're picking up speed very quickly. Our runway is grass and I'm worried we'll bounce off some mound and end up in a ditch, but it is flat as a pool table.
Then we tip upwards and ... lift off.
There's a lot of rattling and a tiny window to my left is open. We go higher and higher.
Wow! What a view. I can see the coast at Castlecliff very clearly, the awa snaking out to sea and its various bridges.
I can see my work office on Guyton St way below. It's the best way to look at Whanganui.
We fly north of the city and Shaun talks me through various turns and moves the students learn.
Then he switches the console to the stick I have hold of and I'm in control. But, nothing happens - we just keep going straight.
Then he asks me to do a turn to the right. The wings turn down and it is amazing to feel the plane turn because I am moving what feels like a gaming joystick.
It is a feeling of great control and power. I understand now why these students love what they do so much and can be fearless at carrying it out.
We finish after about 30 minutes in the air and Shaun takes over to land the plane - something he says is one of the harder things to get right as a pilot.
He nails it and we're back on the ground. I have a moment to reflect while Shaun fills out a journey log.
It's an awesome thing to do and I'd recommend it to anyone with an interest in flying.
The academy offers it as part of a "flight of discovery" offer. The best part? You don't have to go to Palmerston North or Wellington to do it - it's in our own backyard.