Imagine you love nothing more than getting on a bike and hitting the trails.
Then imagine being able to do just that in some of the world's biggest travel destinations such as Italy, France and Spain.
That is the reality for Rotorua mountain bikers Sam Shaw, Keegan Wright and Daniel Self who spent much of the New Zealand winter competing in the Enduro World Series overseas.
Shaw was able to race the full eight-race series for the first time this year, after being signed as a sponsored athlete by Zerode Bikes. He finished 66th overall with his best result being 48th in round-five in Italy.
"I found the racing really fun because it's really diverse. There's a good mixture of everything if you go to every stop - different dirt, different trees, different hills," Shaw says.
"The hardest thing about it was just adjusting to new terrain at every stop. From experience, if you turn up to a place similar to something you've done before, it's a lot easier," he said.
He spent five months overseas and it was clear how much he enjoyed it by how hard he found it to pick out a highlight.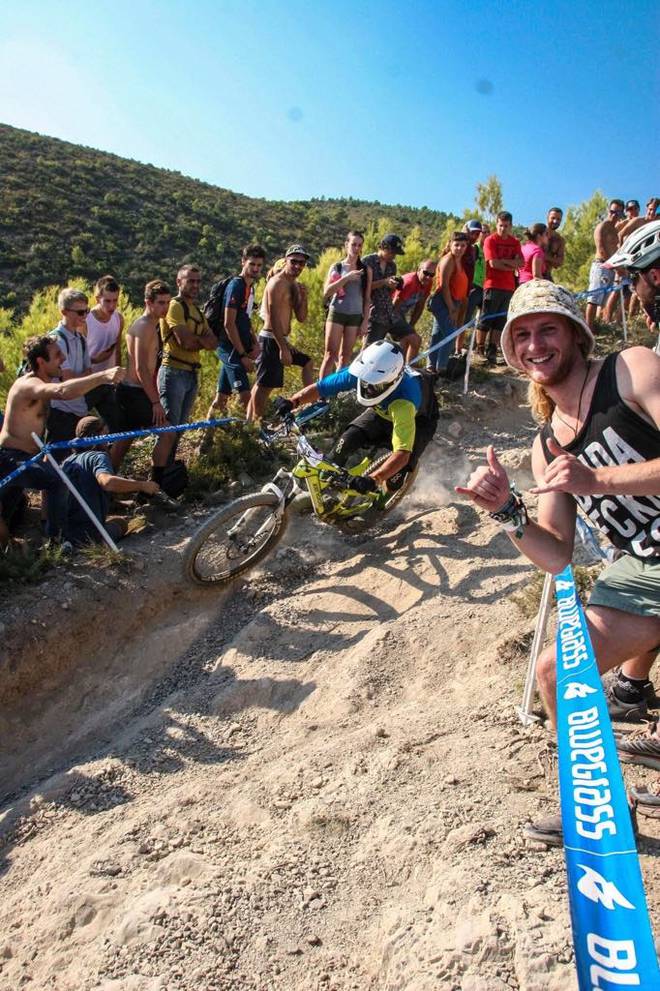 "The whole trip was a highlight. La Thuile [in Italy] was really good because it had heaps of huge descents and a lot of chairlift access. In terms of events, the one that stood out the most was the last round, in Finale in Italy. It's a really good location, the stages were run with perfect liaisons, the tracks were mint and the scenery was amazing."
Wright races on the Devinci Global Racing Team and finished the world series 45th overall. His best race results were 25th in Spain and 26th in Chile. He entered all eight races but missed some due to injury.
"It was a sick season - the first year with a new team and I couldn't ask for a better set-up. I got on with my teammate Damien Oton really well, he's a bit older and he sort of showed me the way and was a bit of a mentor, which was nice.
"Definitely some good results to take away, but it was a bit of an up and down season. It's all experience, it all goes in one book and hopefully over the years you can put it all into some good seasons," Wright said.
Next year the first stop of the Enduro World Series is in Rotorua, which Wright said he was looking forward to.
"It's always cool to race in front of your home crowd on your home tracks. It's definitely a bit of an advantage, but at the same time it's such a popular destination now, so many people come here and ride and a lot of the pro guys would've been here a few times before."
Self is relatively new to the Enduro World Series and raced in the men's under-21 section. He entered the first six rounds and finished 11th overall in the under-21 men's standings, his best result being seventh in Canada.
"The race in Canada was a big highlight. It's a pretty chilled out vibe in Whistler and I'd had a couple of races in Europe where I didn't finish or do as well as I wanted to. I was feeling a bit unsure of myself, with the speed everyone was going at, but I managed to pull a result I was pretty happy with, so that was a good confidence boost for next year.
"I want to do at least four next year and I'm open to doing more if I can find some support. It's a good challenge over there, you learn a lot about yourself and you have to adapt and change. It's good experience and character building, Sam helped me out a lot," Self said.
Enduro World Series Results
Sam Shaw
Chile 50th, Colombia 66th, France 59th, Austria/Slovenia 83rd, Italy 48th, Canada 53rd, Spain 57th, Italy 85th. Overall 66th.
Keegan Wright
Chile 26th, Colombia 50th, France 34th, Austria/Slovenia DNF, Italy 43rd, Canada DNF, Spain DNF, Italy DNF. Overall 45th.
Daniel Self (Men's Under-21)
Chile 9th, Colombia 8th, France 12th, Austria/Slovenia 29th, Italy DNF, Canada 7th, Spain, Italy - Overall 11th.