Open water swimmers David Blackmore and Glyn Eason are well and truly making the most of what Rotorua has to offer.
Aged 43 and 41 respectively, they have set themselves the challenge of swimming 10 Rotorua lakes in 10 days.
Depending on the size of each lake they will swim from one side to the other or to a point and back, for a total of about 50km over the nine days. So far they have completed Lake Rotorua on Saturday, Lake Rotoma on Sunday, Lake Okareka on Monday, and yesterday they completed two lakes in one day, Rotomahana and Tarawera, walking across the isthmus in between.
Today, they are tackling Lake Rerewhakaituua and by Sunday they will swim Lakes Rotoiti, Tikitapu (Blue Lake), Rotokawau and Okataina.
"Part of the reason we're doing it is quite often we come out swimming and we always kick ourselves at the end of the swim and think 'What an unbelievable place this is, we're able to swim in such amazing lakes'," Blackmore said.
"So we decided to turn it into a bit of a challenge for ourselves to celebrate the lakes. We came up with a rough idea of where we'd do it and Glyn has been feverishly working away at Google Maps with the logistics."
Eason said the challenge would also provide a unique cultural experience.
"Where can you swim 10 lakes like this, probably [nowhere] in the world? We're just so lucky. For us, there's so much history and cultural significance to the lakes around Rotorua.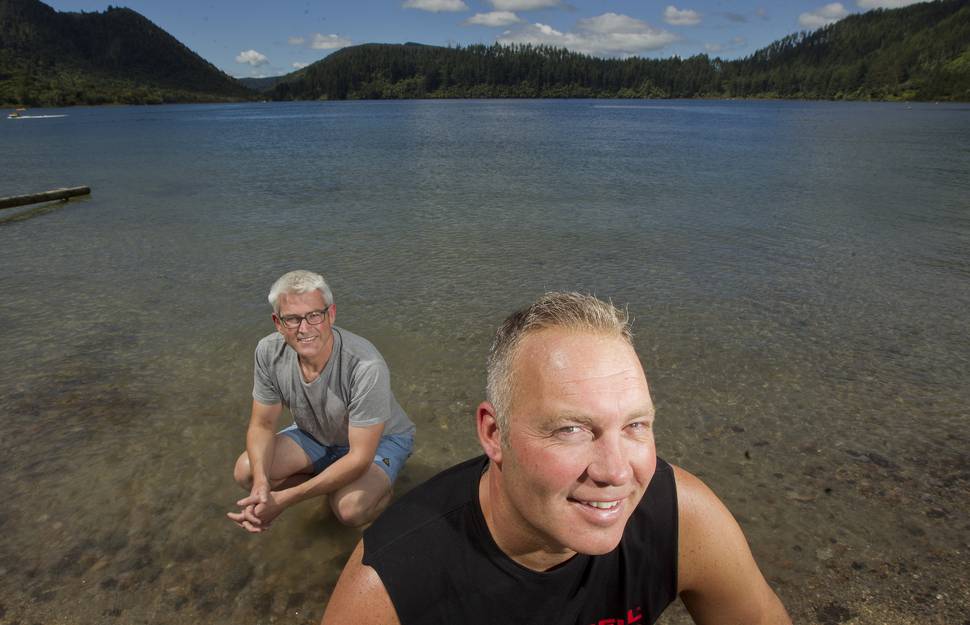 "At Lake Rotorua there's the legend of Hinemoa and Tutanekai, so we were swimming over there thinking about what Hinemoa did hundreds of years ago. It's a bit of a privilege to have the ability to do it and the opportunity living in Rotorua.
"The day we do Rotomahana and walk over to Tarawera, that's where the Pink and White Terraces were, there's just so much history here," Eason said.
The pair have been training together for about five years and at present are competing in the New Zealand Ocean Swim Series. In 2016 Blackmore became one of a few New Zealanders to swim the 20km Gibraltar Strait.
They both work fulltime and are doing most of the swims in the early hours of the morning, always with a support person in a boat or a kayak in case anything goes wrong.
"The shortest we do is about 2km and the longest is about 10km. The two combined on Waitangi Day is about 11km, that's quite a big day.
"I enjoy the environment and being in the water, the movement feels good to me and it feels natural. I always come out of the water feeling better than when I got in. It's a great stress reliever," Blackmore said.
Eason said swimming was a good way to stay fit and healthy.
"You see runners and cyclists hobbling around, but swimming is good for aerobic fitness and not so hard on the joints. You see a lot of older guys swimming and your body holds in there a bit longer," he said.