Rotorua's Steven Holloway is leading the TORO New Zealand Speedgolf Open ahead of the reigning world champion and a New Zealand Olympian after the first day of play.
The lung-busting annual event has attracted a record number of golfers and runners alike to the Rotorua (Arikikapakapa) Golf Club this year as they aim to complete a round of golf in the shortest time possible.
And Holloway, 31, tops the leader board after the first 18 holes shooting 73 in 43.44 minutes. That gave him a speedgolf score of 116.44 (the sum of his time and golf score).
Holloway sits ahead of Fitzroy's Jamie Reid in second (121.27) and last year's champion - third placed Kiwi Richard Olsen (122.51). Rotorua's Mike Ryan Jnr ended today fifth with a score of 128.02.
World Speedgolf champion Jamie Young (USA) lies in seventh with New Zealand athletics Olympian Nick Willis in eighth.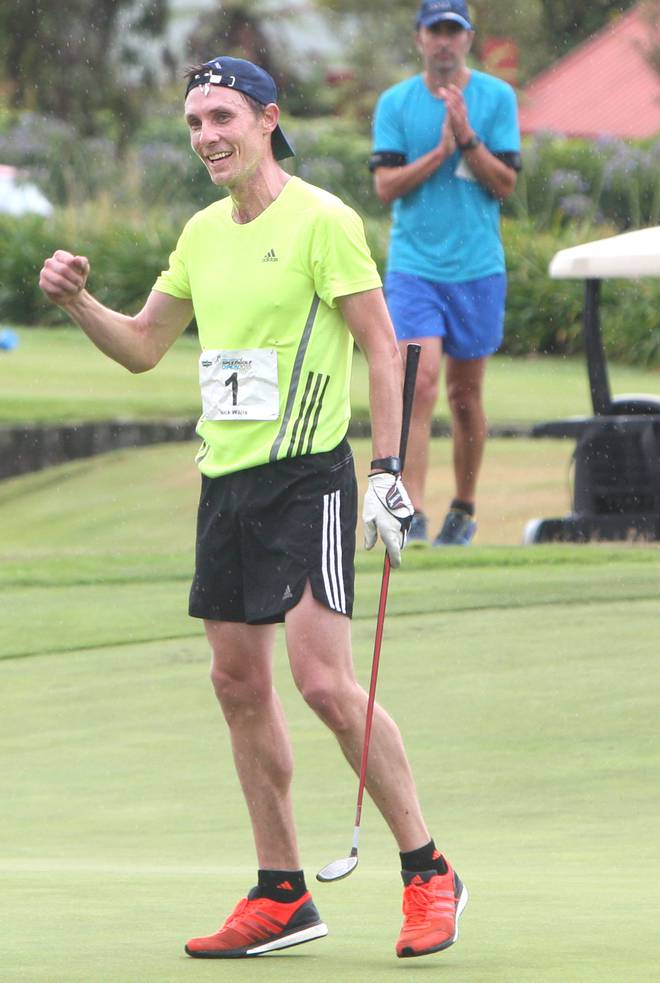 Holloway, said he was "very happy" with his performance so far but added his putting need "much improvement" if he hoped to lift the trophy for the first time.
"I'm pleased with that and I've given myself a good chance," he said. "My running was very strong and my hitting was a lot straighter than usual.
"Hopefully I can continue this form but one thing that needs some work is my putting - I was just missing some at the crucial moments and that could be very costly if I'm not careful."
In the women's field as predicted last year's champion Liz McKinnon of Auckland and fellow former New Zealand tour professional Renee Fowler from Wellington are the top two to chase tomorrow.
McKinnon shot 84 in 55.23 minutes - a speedgolf score of 139.23 whilst Fowler battled to 90 in 57.01 minutes, whilst Auckland's Pam Greenhalgh finished for the day on 149.22 after hitting 84 in 65.22 minutes.
The top 12 men and six women finishers have made the final cut for tomorrow's play with all still to play for over the final 18 holes.
Young, 52, making his debut at the third annual unique sporting competition, said his chances of winning were still "very much alive".
"It's just day one. I was happy with my time, I just need to improve on score," he said. "The way I won the world championship was shooting low scores, I'll be looking to go round in a par or better tomorrow.
"You've got Olympic medallists here and younger people so it's dominated by a lot of strong runners so I have to make up for it with my golf score. I'll focus on my game and see what happens."
This year, three categories (individual, social individual and social pairs) are open for players at any level with $4000 prize money up for grabs across all categories.
People can still enter for the social individual and social pairs competition tomorrow with registration closing tomorrow at 9am.
The New Zealand Speedgolf Open has been hosted in Rotorua for the past three years since the sport was introduced in New Zealand in 2015. This year's tournament has been included to make up part of an Australasian double with the Australian Open taking place in Sydney the following weekend.
Tomorrow the final 18 holes of the individual top flight competition tees off at 10am.
2017 New Zealand Speedgolf Open day one results (18 holes):
Individual - Top Flight & Emerging Talent (36 holes over two days)
Men (top 12)
1. Steven Holloway (Rotorua) 43.44 / 73 / 116.44
2. Jamie Reid (Fitzroy) 42.27 / 79 / 121.27
3. Richard Olsen (Paraparaumu Beach) 42.51 / 80 / 122.51
4. Matthew Dalton (Spingfield) 46.09 / 80 / 126.09
5. Mike Ryan Jnr (Rotorua) 47.02 / 81 / 128.02
6. Mark Le Compte (Mal borough) 44.30 / 84 / 128.30
7. Jamie Young (USA) 49.34 / 79 / 128.34
8. Nick Willis (Shandon) 41.08 / 88 / 129.08
9. Jared Dries (Australia) 49.42 / 80 / 129.42
10. Phil Aickin (Whitford Park) 58.47 / 73 / 131.47
11. Brad Barron (New Zealand) 44.57 / 88 / 132.57
12. Peter Sharlott (Tapora) 52.39 / 83 / 135.39
Women (top 6)
1. Liz Mckinnon (Auckland) 55.23 / 84 / 139.23
2. Renee Fowler (Wellington) 57.01 / 90 / 147.01
3. Pam Greenhalgh (Waitemata) 65.22 / 84 / 149.22
4. Virginia Deigan (Australia) 71.48 / 103/ 174.48
5. Carole Whitehouse (Australia) 75.11 / 101 / 176.11
6. Margaret Deane-Freeman (New Zealand) 88.25 / 103 / 191.25