A multimillion-dollar expansion to a Rotorua five-star resort is leading the way in massive reinvestment in the city's accommodation sector.
The Regal Palms Rotorua Resort is expanding from 45 rooms to 70, taking out an empty block of land next to the resort on the city's famous "motel strip" on Fenton St.
It's just one of several new developments and reinvestments in the sector on the back of a visitor boom in the past five years that will see a projected 2.34 million visitor nights in Rotorua by the end of the year.

The developments at Regal Palms follows the building of a five-star apartment complex on Peace St, the opening of a new motor inn at Fairy Springs and improvements to the former Grand Hotel, now renamed the Grand Treasure Hotel.
Paul and Carole Huck, who had managed the Silver Fern Motel on Fenton St for more than five years, have just been brought on board at Regal Palms to co-manage the business with Ross and Annie-McGregor given the business is set to increase room capacity 56 per cent.
Paul Huck said once finished by October next year, the new-look resort would have an additional 25 units - including some three-bedroom units, set in a newly-built three-storey building.
The expansion will also see the building of a 70-seat breakfast room, the current gym becoming a games room, a new bigger gym built, spa facility and treatment room and another playground and barbecue area.
He said the Chinese owner was sparing no expense and was going to upgrade the existing resort once the expansion was completed.
Carole Huck said the resort operated on 85 per cent occupancy all year and during peak weekends often had to turn people away.
"There's always something happening in Rotorua and a majority of the weekends are booked," Paul Huck said.
The Hucks said they had been in Rotorua six years and had noticed the city getting busier each year.
Fenton St is in for some more development with Te Arawa Group Holdings Ltd, the commercial arm of Te Pumautanga o Te Arawa Trust, recently buying a big block of land almost adjacent to the Regal Palms, between Gwendoline and Sophia Sts.
The land was formerly the site of the Gwendoline Court Motel and two houses.
Te Arawa Group Holdings has said it's not yet in a position to reveal what would be built on the land.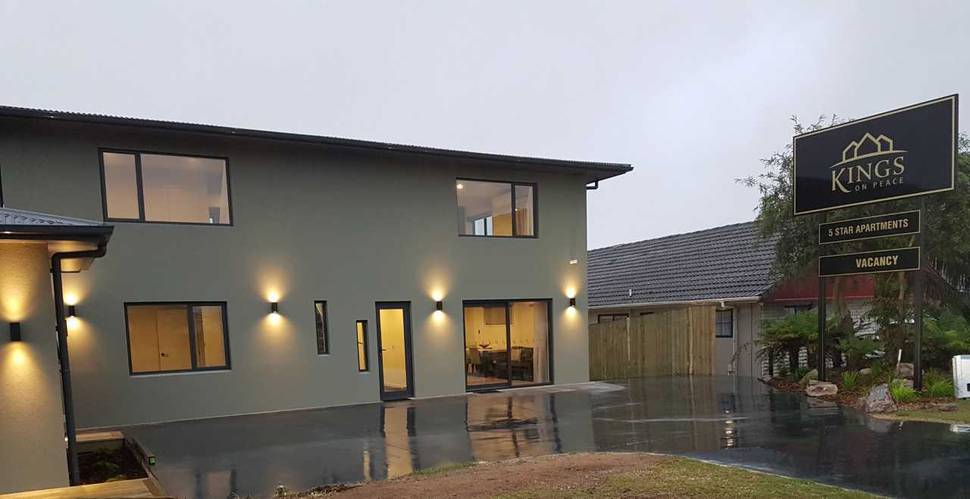 Sport of Kings manager Triston Williams said they had just opened a new business next door on Peace St, called Kings of Peace, that offered seven five-star apartments.
They have also added car charging stations to both businesses for those with electric cars.
She said it was important for businesses to reinvest or improve because a lot of people were wanting to stay somewhere "nicer than home" when they went away.
She said although the industry had taken a hit with several Airbnbs on the market, summer bookings were looking "amazing".
Rotorua International Motor Inn opened on the corner of Monokia St and Fairy Springs Rd in June this year. Manager Michelle Dodman said the Regal Palms owner was friends with her motor inn's owner and both Chinese businessmen knew the value of reinvesting.
"We need it. We have worked in Rotorua for a long time and having people prepared to put their hand in their pocket to reinvest is the way to go."
She said the accommodation sector played a vital role in the visitor industry.
"We are the first place people see when they come here. They need to feel welcome, revitalised and know their money is well spent which makes them feel good about spending more money. And we want them to come back."
She said as more land opened up in the Fairy Springs area, she expected to see more accommodation businesses opening.
Rotorua Economic Development executive manager for growth and intelligence Rebecca Wright said it was great to see the accommodation industry reflecting the strength of Rotorua's visitor economy through its reinvestment.
She said commercial accommodation nights were rising in Rotorua and were projected to hit 2.34 million in 2018, a 5 per cent increase on last year.
"We're also seeing an interesting trend of a lengthening high season from mid-October to mid-April. This helps to create more confidence in the destination for new investors and encourages existing businesses to reinvest in their product."
She said other owners should reinvest as well.
"As the industry continued to attract more independent visitors looking for high-value experiences, we expect to see other owners choosing to reinvest in their properties alongside more new investors keen to take advantage of the world-class Lakefront facilities being developed."