An emotional plea from Rotorua's homeless has been heard - Rotorua will have a night shelter this winter.
More than 120 people marched to the doors of Rotorua Lakes Council on Monday during a Hīkoi for the Homeless, stressing the urgency for a night shelter, to prevent homeless people from dying on the streets.
Now less than a week later a temporary shelter has been found.
The shelter is being spearheaded by Te Taumata o Ngāti Whakaue general manager Roana Bennett, Ngāti Whakaue kuia Norma Sturley and Tiny Deane, from Visions of a Helping Hand Charitable Trust.
Since the hīkoi, the group has met with official council representatives Dave Donaldson and Merepeka Raukawa-Tait, Waiariki MP Tamati Coffey and council staff.
Sturley said there had been a full and frank discussion about what was and wasn't possible.
"One of the things I really came away from that meeting with is that there was absolute genuine support from the council."
Since those meetings the group has partnered with an "amazing landlord" and selected a central city building to house a homeless shelter for the next four months.
The group is not ready to share the location of the shelter, but Sturley said they visited about five properties before selecting the right one.
"Within these few days we've discovered how much is possible."
Bennett said there would be much less urgency around this kaupapa if it wasn't already at the start of winter.
"We all woke up this morning to frost in the garden, it was cold, imagine sleeping in that.
"It was important for the council to see these people and to hear their voice, now we have an opportunity to help."
The landlord has supported the cause by installing additional showers and washing machines at the property.
"The expectation now is to get other people involved," Bennett said.
Funds for the homeless shelter, which will be called Sanctuary Manaakitanga, are being raised through the support of charitable trusts, iwi entities and local businesses with the costs reaching more than $100,000 for the four months it will be open.
Sturley said the invitation was being spread out to the community.
"We're still looking for more money, baking, bedding."
The group's aim is to have the shelter open within the next two weeks.
Deane will be in charge of the management of the shelter and will put strict policies in place to ensure the safety and positive behaviour of its occupants.
"We are gearing up to have 30 people in there at a time and seeing how it goes from there."
The shelter is only temporary and the group said providing people with support, getting them into employment and permanent accommodation were the long term goals.
Deane plans to invite other services into the space to help with addiction, mental health issues and other needs of the homeless community.
"The expectation is that they will eat before they get here and we will then provide them with tea, coffee a few biscuits."
Anybody staying at the shelter will have to arrive between 8pm and 10pm and leave between 6.30am and 7am.
The Visions of a Helping Hand drop in centre on Pukuatua St will open from 7am to provide breakfast.
The shelter will be a smoke-free, drug-free and alcohol-free area with security guards awake during the night.
"What we know about these people is they look after each other, we will be utilising that," Deane said.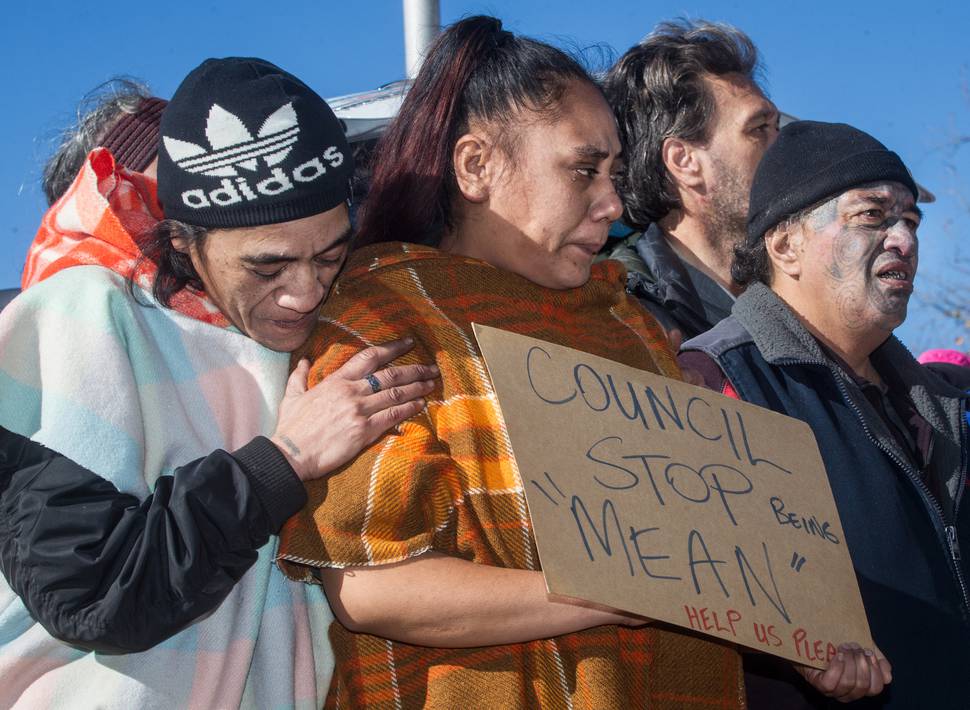 Maria Hohaia and Whariki Cook were not expecting a reaction to the hīkoi to come so soon.
The women both live on the streets and walked together on Monday.
"That's an amazing reaction," Cook said. "It's taken us so long to get to this point."
Cook has been living on the street for the past 12 years, since she was 15.
"We have been getting frozen and now we can be so happy.
"We really wanted this for the winter, it will help to keep people safe and out of trouble."
Albert Waiapu has been living on the street for the past six to seven years but recently moved into a property.
"It is cold out there.
"It will be really awesome to see it up and running as soon as possible, there are people in need."
Rotorua district councillor Merepeka Raukawa-Tait said she found the hīkoi "very upsetting".
"I don't want anybody to die outside in the cold.
"I want to put all my effort into helping the homeless and rough sleepers, into getting something I think they should have had a long time ago."
Raukawa-Tait said she believed the council could have done more.
"Within a week we have added such big changes and now it's about what can we do and how can we fast track it."
Waiariki MP Tamati Coffey said he was "ecstatic" the community rapidly made this shelter happen.
"After the hīkoi, many of us stayed and agreed our capacity and passion could see whānau in need, in a shelter, before winter struck.

"Knowing they've succeeded, makes me very proud. I back this kaupapa 110 per cent."
Rotorua MP Todd McClay said it was "very important" and good to see someone in the community had stepped up.
"The Government still has a big role to play also, we can't leave it to the community.
"There needs to be a focus on transitioning people into the help of government agencies and making sure their long term issues are worked through.
"This is a longer term issue than just this winter or next winter."
Renee Kiriona, who organised the hīkoi for the homeless, said it was a very good day for Rotorua.
"I'm quite excited to see this happen."
Love Soup's Elmer Peiffer said he hoped everything was set up right, that it was functional and it worked.
"It's been on the table for 18 years now, but the problem has never been as big as it is now."
How the homeless shelter will operate
• The homeless shelter will be located within the Rotorua CBD.
• It will open within the next two weeks and be in place for four months.
• Homeless people will register at the Visions of a Helping Hand drop in centre to stay in the shelter.
• There will be only one entry and exit point.
• The doors will open from 8pm and close again at 10pm.
• Occupants cannot leave before 6.30am and have to be gone by 7am.
• There will be a locker space provided for people to leave belongings.
• Two security guards will be in place during the night.
• The beds will follow a dormitory model where everybody is visible.
• The shelter will be a drug-free, smoke-free and alcohol-free area.
• People can be banned from the property for breaching the four main rules, no drugs, no alcohol, no assault and no verbal abuse.
How you can help
• The shelter is still in need of donations.
• Cash, bedding and home baking are all desired.
• If you wish to drop off a donation visit the Visions of a Helping Hand drop in centre at 1225 Pukuatua St.
• Donations can also be made to the Sanctuary Manaakitanga Fund: 03-0415-0068007-00
• Businesses can sponsor the shelter by contacting Tiny Deane on 027 506 1313