Competing at the Commonwealth Games comes with a great deal of pressure and stress. Emotions run high as four years of hard work come to fruition and that is not just for the athletes.
In most cases the athletes have loved ones in the stands, on the sidelines or watching from home who are just as, if not more, invested than the players themselves.
They have seen the hours upon hours the athlete has put into their sport and, for the parents, there is still that ingrained desire to protect their child from harm. They are desperate to see the athlete they have raised enjoy success and avoid disappointment.
While Rotorua's Amanda Landers-Murphy has been competing in the squash singles, mixed doubles and women's doubles at the Commonwealth Games on the Gold Coast this week, her family have been in the stands living and breathing every moment with her.
Her mother Delwyn Murphy confessed she struggled to watch at times.
"It's very nerve-racking for me. When it's a close game I sometimes can't look, I have been known to walk away because I just can't watch the last few points. I love it when it's a pretty clear-cut game either way," Murphy said.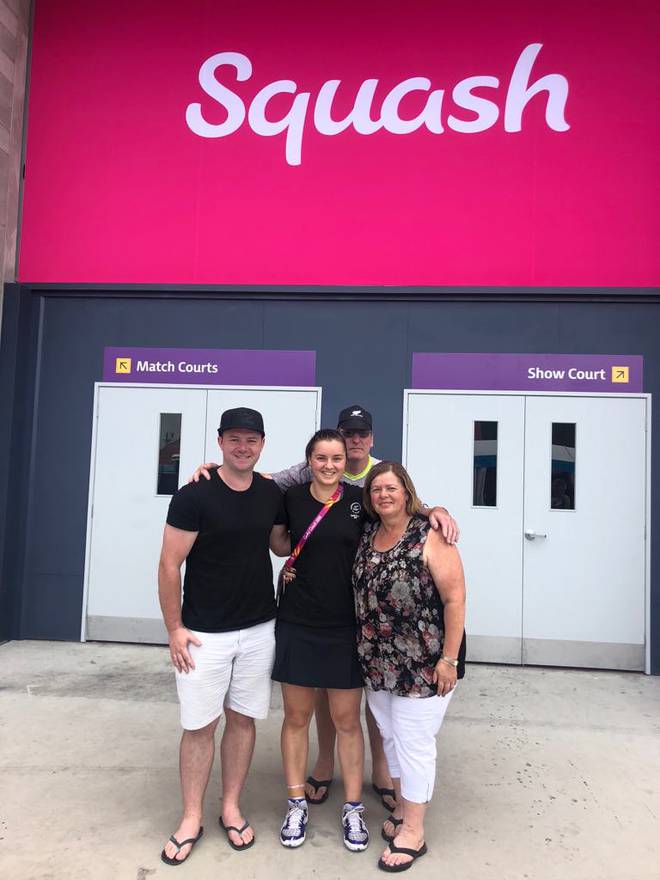 She said she never imagined she would be on the Gold Coast watching her daughter play squash in the Commonwealth Games, especially considering Amanda played representative hockey until she was 13. However, she started making New Zealand Squash development squads her focus shifted. The rest is history.
Her step-dad Mike Murphy coached her throughout her youth. Delwyn said the pair would head straight to the courts after school every day, only coming home for dinner.
"We're extremely proud of her. We've always been there to help her get where she wants and as she's gotten older she's needed less. We're just here for mental and morale support now, which is great.
"As a mum you see them go through all the highs and lows. It's a tough life [being an athlete], people see all the travel she does and think 'what an awesome life', but it's so hard because she's there on her own and you have to be the sort of person to do that. It does catch up at times, she's more of a homebody, but that's when the phone calls happen.
"It can be hard if she's overseas, having a tough time and I'm not there. I think as a mother it doesn't change - whether they're totally dependent on you as a 2-year-old or totally independent of you as a 26-year-old, once a mum, always a mum," she said.
Landers-Murphy was knocked out of the singles in the round of 16 while her and mixed doubles partner Zac Millar showed they could be a duo to watch out for in future with some solid performances before being knocked out in the round of 16.
In the women's doubles, she and singles gold medal winner Joelle King are the top seeds. They play in the semifinals at 4pm today, after beating England in their quarter-final yesterday.
Delwyn Murphy said the New Zealand players had a tough draw at the Commonwealth games and had justifiably started slowly, but were warming into the doubles competition.
"Joelle came straight into the doubles the day after her singles gold medal match, so they didn't have a lot of time together and started a bit scratchy. But they've certainly improved as the tournament has gone on."
She said, squash achievements aside, she was most proud of the way her daughter had grown as a person throughout her time playing squash, being fiercely competitive but never letting it compromise her desire to be a good person.
"She's always been an awesome kid, but she's turned into a great young lady."