New Zealand became the "country of adoption" for 10-year-old Krishiv Chandra as he became a citizen.
Yesterday Rotorua welcomed 28 new citizens from 11 different countries around the world in a ceremony at Rotorua Lakes Council.
The ceremony opened with a performance from pupils of Owhata Primary School, featuring a fearsome haka.
Rotorua mayor Steve Chadwick thanked them for their waiata and sent them off to enjoy an afternoon tea of chocolate biscuits.
As she welcomed the families and their friends to the council chamber Chadwick held up the new-look Citizenship Ceremony programme which now features the images from Vision 2030.
Chadwick told the families to feel at home and not worry if their children wanted to wander around the room.
"There are lots of safe eyes watching out for them," she said.
New citizens received a houpara seedling and a book titled Choice. Chadwick encouraged them to plant the shrub at home, but joked that really they could plant it anywhere they liked.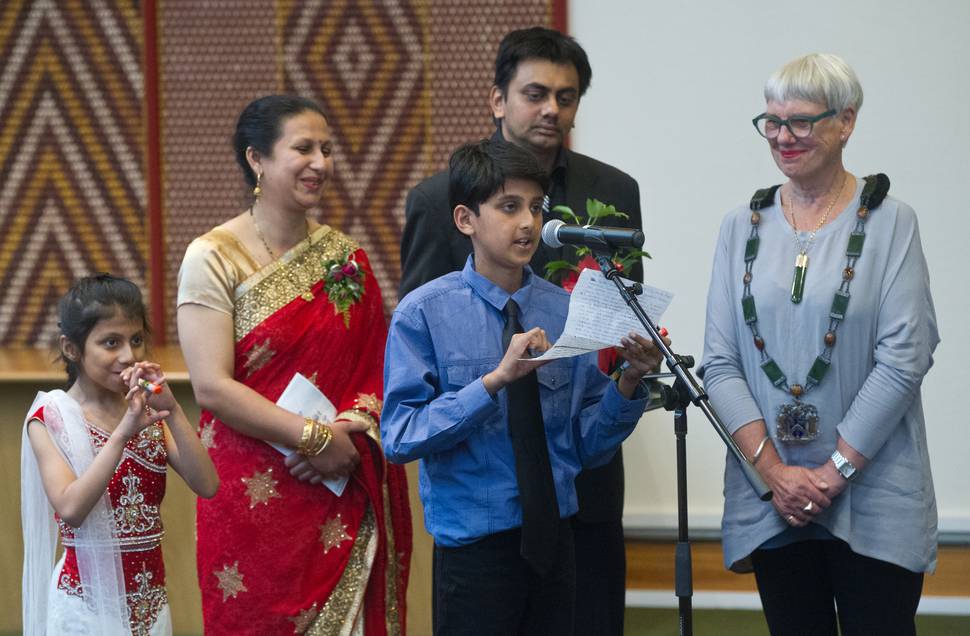 The Chandra family from Fiji had worn their cultural attire especially for the occasion and eldest son Krishiv had prepared a speech.
He told the crowd his dad had come to New Zealand first in 2009 before the rest of the family could join him in 2012.
"Before I came to New Zealand I thought Fiji was the most beautiful place to live, but yes, while Fiji is beautiful, since I have come here I realised New Zealand is the most beautiful place to live.
"Especially this city of Rotorua, I love it in Rotorua."
Krishiv's grandparents have since joined the family in New Zealand.
He said he had learned many lessons from his grandad and that maths was his favourite subject at school because his grandad worked on it with him at home.
"He tells me to be faithful and loyal to the country that I live in, and today I am listening to him, New Zealand is becoming my country of adoption.
"When I grow up I will serve this country with all of my heart."
His grandad wiped a tear from his eyes as the rest of the family joined them at the front for a photograph.
New citizens
Mr Sundresan, Sarvjeet Kaur Sundresan - Fiji
Mohsen Askari - Iran
Imelda Nicolas Banggay - Philippines
Rohit Vikash Chandra, Komal Pretika Chandra, Krishiv Vikash Chandra, Raina Krisha Chandra - Fiji
Amanjot Kaur - India
Fatih Kolcu - Turkey
Jito Kumar - Fiji
Rita Asolima Patolo Faalava - Samoa
Noolek Sangchaiyaphoom - Thailand
Crisanto De Guzman Tecson, Mariepaz Alejandra Rosal Tecson, Elisha Noel Rosal Tecson, Dan Timothy Rosal Tecson, Jan Vincent Rosal Tecson - Philippines
Daniel Walter - Vanuatu
Anjana Niluka Hettiarachchi, Surangi Hettiarachchi - Sri Lanka
Thida Hodge - Thailand
Shayamalee Senevirathna Senanayaka, Priyantha Jayarathne Dasanayake Mudiyanselage, Lakshani Chamathka Dasanayaka Mudiyanselage, Buddima Sathmini Dasanayaka Muditanselage - Sri Lanka
Timothy Richard Senington - Britain
Gwang Yong Yoon - Korea