Josh Kirikino's mum was in tears as she watched her son putting on his suit in his ICU room, knowing he could not go to the school ball.
But that changed when a kindly doctor stepped in to give the Rotorua teen his very own "Cinderella moment".
Josh, a type 1 diabetic, was rushed to Whakatane Hospital fighting for his life only three days before his best friend's school ball.
He was moments from slipping into a diabetic coma when he was admitted, barely able to breathe on his own.
Through tears his mum, Vicky Kirikino, said she thought she was going to lose her son.
"He was really sick and he was gasping for air. He was crying and I just had to hold his hand. I never want to see anything like it again."
Two days before the ball Josh was transferred to Rotorua Hospital, but doctors made it clear he would be too unwell to go.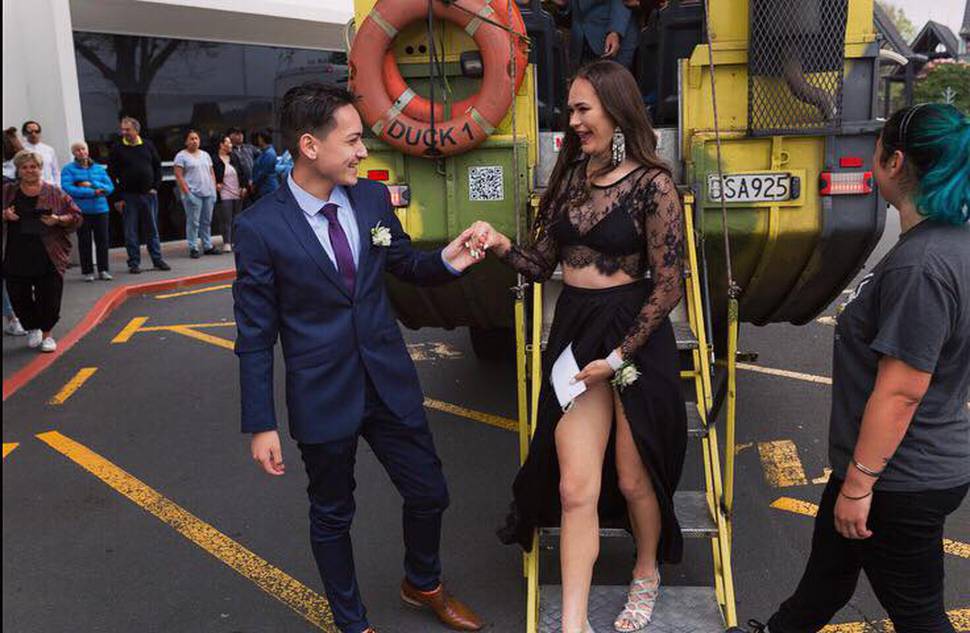 "I was pretty bummed," he said.
When his best friend Teina Cassidy heard the news she told him he had better get better in time.
"I really wanted my best friend to be at the ball with me," she said. "On the Thursday night I went to see him, as soon as he was back in Rotorua. Visiting hours were over, so I told them I was his sister just to get in. Then I went home and cried."
Mrs Kirikino said it was hard to see Teina so heartbroken.
"Josh was heartbroken too, to let her down."
The day of the ball, Mrs Kirikino brought Josh's suit in from home so he could still get dressed up.
"I didn't have any socks, so I had to wear the orange hospital safety socks," Josh said.
The ICU nurses set up an area for the pair to have photographs but, as Teina made her way to the hospital, Josh received the good news.
"Dr Man Bun - we don't know his real name - came in and told me he had decided I could go," he said. "There were strict conditions, but I was still so excited."
Mrs Kirikino said he ran around hugging all of the nurses and couldn't stop crying.
"He is such a good kid and I feel sorry for him, because he has missed out on so many big events because of his diabetes.
"This was all he could talk about for months and when I saw him putting on his suit, it broke my heart.
"[When he got to go] It was kind of like his Cinderella moment."
After a photo session in the hospital, Josh made his way to the ball with his heart monitor still attached and strict instructions to be back by midnight.
"It was heaven," he said. "Thank you so much to all my nurses and the biggest thank you to Teina."
Mrs Kirkino said she followed them to the venue and spent the night waiting outside, messaging him to make sure he was okay.
"When he got back to the hospital he was asleep the second his head hit the pillow.
"I just sat there staring at him all night, because I was so happy that he finally got to have such a big moment."