Laura Stuart never thought moving from the floor to a chair would be a big deal.
But being able to do it mere months after she was paralysed has been her "single most rewarding achievement" to date.
Yesterday marked six months since Laura crashed her mountain bike in the Whakarewarewa Forest, breaking her neck and back.
The Rotorua Daily Post caught up with her to see how her recovery was going and what she had been up to since her last column for this newspaper.
"Everyone keeps telling me it's still early days but I feel like it's been a long time. I'm feeling a lot stronger and a lot more confident to move about.
"I love couches. If I see a couch I will seize the opportunity to get off the wheelchair because it's a bit boring sitting on one chair all day.
"In terms of my rehab, the most rewarding part has been my physical strength. The other day I realised I could push myself up from lying to sitting from the floor. When I was in hospital I thought that was going to be impossible just because the level of my break is so high that I don't have any abdominal core muscles to help me up. I surprised myself that I was able to just use my arm muscles to do it.
"I've also taught myself how to get from a cushion on the floor up to my wheelchair - I think that has been the single most rewarding achievement so far."
Laura moved back to Wellington with her partner Alistair Brown in June and has had no trouble keeping herself busy, between rehabilitation and socialising with friends and family.
"It's nice being back in the city where there are lots of activities I wouldn't otherwise have been able to do in terms of keeping me entertained.
"The social aspect has been great because in Wellington I have quite a diverse bunch of friends - we can do things together like aqua-jogging then have a wine at 3 o'clock.
"The cinema Light House has great couches you can pull up on - I rudely put my feet on the couches but my feet don't touch the ground so it's not like they're dirty," she laughed.
During the weekdays she devotes herself to rehabilitation, going to the gym twice a week, swimming twice a week and seeing her yoga instructor.
"I'm trying to do everything that will help me, keep me healthy and make life easier.
"I take myself on strolls down the Wellington waterfront, although there have been a few days where I've been strolling along and one way is so painful and the other way my friends are running to keep up with me."
But there was a downside to being back in the capital.
"I forgot how hilly it is. It is lovely to be back but my perspective has completely changed - I never considered how steep it was."
Transitioning to a sedentary lifestyle had been the biggest challenge since her accident, she said.
"The other day I was pulling the washing out and stuffing it into the dryer and I looked out the window and saw it was starting to rain. I saw the sheets on the washing line - up the stairs and on the lawn - and I was just thinking 'it would be so easy to walk out and take the sheets down' but instead I had to watch the rain come down and drench the sheets.
"The amount of time it takes me to do things is also pretty hard - quite often I'm late to things because I need to go to the toilet, put my coat on - which takes five minutes - go down the ramp, hop into the car, drive to the place, get out of the car - if it's raining it's horrible because the wheelchair gets saturated and I get saturated. I always have to give myself about an hour to get ready."
When asked how she felt looking back at the last six months she said she wasn't one to dwell.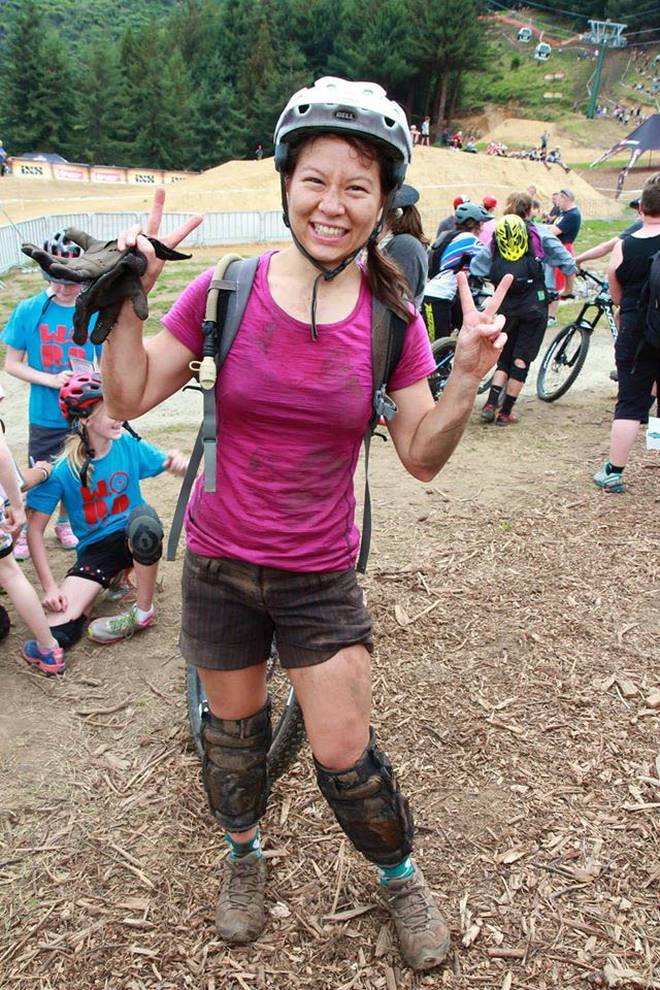 "I'm staying positive that by my 40th birthday, one way or another, whether it's in an exoskeleton or microchip or renewing cells, I'll walk again.
"I'm always optimistic. I don't dwell on it. I had a therapist come chat to me but I realised, actually I don't need a counsellor's support at this stage because I don't have too many dark days. For me it's just a matter of keeping myself surrounded with positive people and making sure I have productive things to do.
"Coming from a gymnastics background and then a mountain biking background I was always very body conscious and health conscious and it was all about my body. Now I'm starting to accept my body isn't everything - it's just a vessel for my mind and brain - that's the most important part and every day I'm thankful that wasn't affected.
"It's important to think about all the things I can do rather than think about the things I can't do. This has been an opportunity to grow."
- To follow Laura's recovery journey, click Here