It's been given the thumbs up by acting legend Robert Redford and has won a gold medal at an international competition, now Rotorua's Copperhead Road Distillery is ready for the big-time.
Copperhead Road Pure Heart Premium Vodka - distilled here in Rotorua by a handful of passionate locals who started it all off as a hobby - has just become a lot more serious.
Copperhead Road Distillery is owned by chief distiller Rod Roos, Paul Graeff and Steve Te Moni, along with Graham Willcox and administration and office person Pam Neilson.
Mr Roos - a boat builder by trade - said he started off as a bourbon fan.
"I started off home brewing and was trying to make the perfect bourbon.
"But I realised you couldn't do this because you have to do it the proper way, which is by using pot stills and putting it in a barrel for five to eight years."
He said a lot of time and effort had gone into their special distilling process.
"We use fractional brewing, which is the most pure way of brewing, and out of about 75 litres of wash we are lucky to get six litres of alcohol.
"It's pure enough we don't have to put it through carbon to disguise any bad flavours.
"Fractional brewing is not a new thing, but it's a very precise portion we take out of it and I have a couple of secrets in the still that I really can't tell anybody."
He said they could not have got this far without the help of local experts.
"We have had a huge amount of help from local businessmen in specialised fields like refrigeration and our electrics, and the whole thing has been done on a shoestring - we could not have done it without them."
He said when film star Robert Redford, who was in town filming the movie Pete's Dragon, was given a bottle by Mr Wilcox they knew they were onto something special.
"He loved it and wanted to take some back to his place in Utah.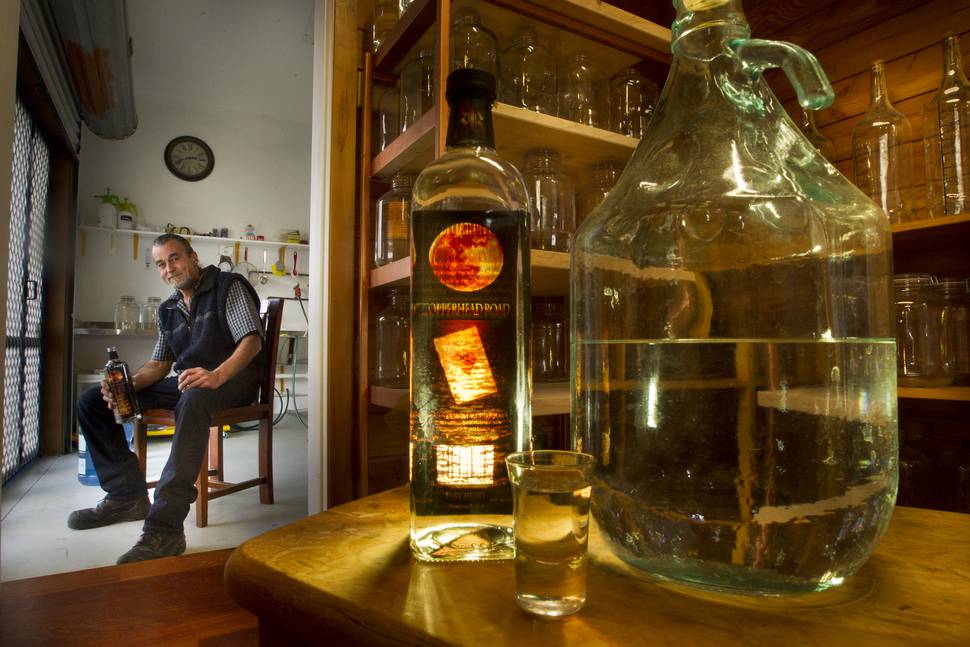 "We've had guys telling us it's better than Grey Goose, another premium vodka, so I can't see it selling for less than $100 a bottle."
But, their most recent success has seen them get pretty excited after they entered the Melbourne International Spirits Competition picking up a gold medal.
"We made the Melbourne competition in the nick of time and only found out about the result last week.
"We did not expect to win anything, we thought it would be good to compare it with what's out there."
Their Melbourne success has seen them get automatic entry into the Berlin and New York international spirits competitions early next year.
That same success has also seen them inundated with orders, so many they will need to expand the size of the distillery.
"We are not going to cope, so will need to find a bigger space."
Mr Roos said they had received interest from New Zealand-based liquor outlets but could not yet sell directly to the public.
"It can only be sold in New Zealand to people with a liquor license, but New Zealand itself is not really where we are heading, we are looking overseas to a bigger market - but that's going to mean a lot more competition."
He said in future they would all like to say there's a world-class vodka coming out of Rotorua.
"Like the guys at Croucher Brewing with their beer. We can do some pretty amazing things here in Rotorua and there's not too many vodkas as smooth as this one."