Easter in the Bay of Plenty is not just for holidays and chocolate, but also for camouflage and rifles. Late March marks the start of the Roar-mating season for red deer, with the game-bird season not far behind. While hunting can thrill, too often humans become victims of the kill.48 Hours reporter Dawn Picken speaks with Bay locals and experts about safety in the bush.
THE COUPLE who hunt together eat venison stew together-which is what scientist Lorelle Phillips and her partner, industrial manager Garry Foot, have just done when I call.
"You should've come for dinner," says Garry. "It was really good."
The 52-year-old says hunting provides a shared pastime and fresh venison, pork, even wallaby.
"It's milder [than kangaroo], quite like veal."
The Rotorua couple are looking for a spot to take part in the Roar, when rutting stags call for their hinds (females). They prefer hunting on private land, and like to use bows- partly for safety.
Lorelle says: "When we started the bow hunting, I at least felt safer by learning hunting properly. You have to be very close to your target . . . the distances are a lot shorter. Some rifle shots can go for a kilometre-and-a half. I've enjoyed learning how to hunt because I've really had to refine skills because I've got to get so close."
Lorelle says she needs to be 40 to 50 metres from her target when using a bow.
Garry says: "Mainly for Lorelle, the bow is where it's at. We feel like we're cheating if we go out with a rifle."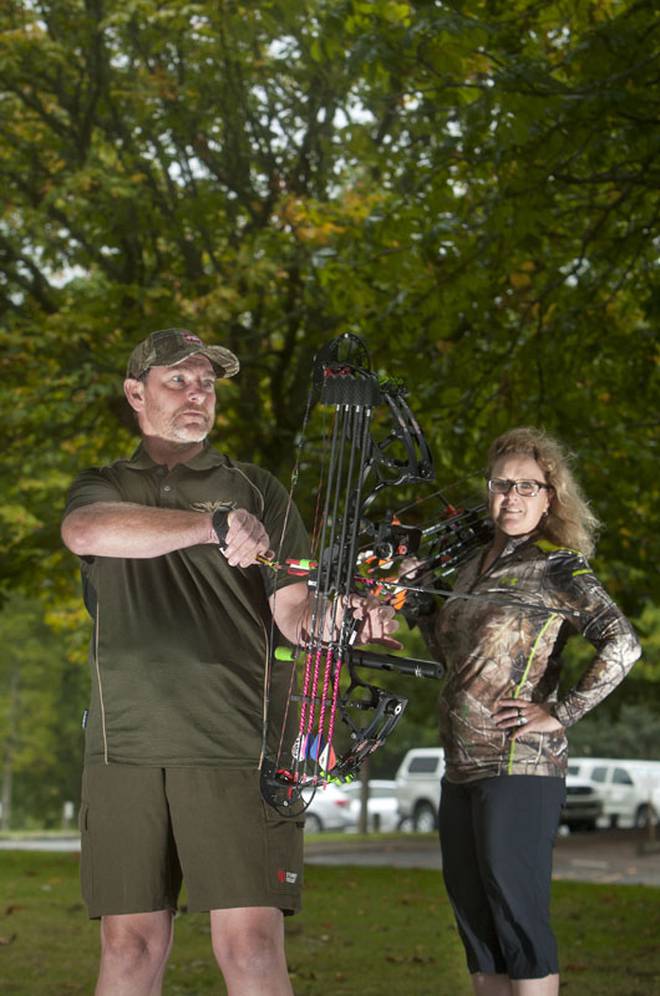 Adam Finlayson will bring his 12-year-old son, Alex, to the Roar next week. The Te Puna resident will travel down the East Coast, into the Raukumara Ranges, hoping to bag a couple deer for the family freezer. Adam says that, while his son has already shot deer, this will be his first time hunting during mating season.
"The stags are roaring; there's a bit of adrenaline, a bit of a rush. We'll get him in and see what happens during the Roar and teach him safe habits."
Hunters and police say the Roar brings out weekend warriors, the people who hunt just once a year, lured by the thrill of hearing a rutting stag calling for its hind (female). One officer says: "It's all about sex, really."
Detective Sergeant John Wilson with Rotorua Police says the noise the red deer makes leaves it vulnerable.
"When they roar you can pinpoint where they are. That's why it's the most popular time of year when people who otherwise wouldn't go hunting go to the Roar."
A hunter himself, Sergeant Wilson also leads police search-and-rescue efforts.
"I think odds are, there will be an influx of hunters because it's a long weekend."
Adam Finlayson says, "This is when the accidents happen." But tears spring from hunting accidents year-round: An 11-year-old was fatally shot near Taupo last October; a father mistakenly shot to death his son on Stewart Island last May; two deaths happened earlier that month on Mother's Day-a15-year old boy was fatally shot in Matata and a 21-year old man was shot and killed while hunting in Ruatiti, in the Central North Island.
Sergeant Wilson says the last hunting fatality in the Rotorua area happened in 2012, when James Dodds was shot by his hunting mate south of the city. It's a recurring tragedy that Bay ofPlenty Police District Inspector Kevin Taylor says is preventable.
"The critical thing is identify your target. I can't say that too many times. It might sound unfair but, if you shoot someone, either you have not positively identified your target or you intended to shoot them. A wonderful weekend can turn into a lifetime of regret in a split second for people who do not follow the rules."
The New Zealand Mountain Safety Council's provisional numbers show six non-intentional firearms incidents last year; 27 people died while hunting (including falls and river crossings) from 2007-14. Its chief executive Mike Daisley says the safe handling of firearms remains a significant contributing factor in almost all recorded incidents.
"A great number of firearms incidents could have been avoided by simply treating every firearm as loaded."
New Zealand Deerstalkers Association president Bill O'Leary says around 60,000 hunters live in Aotearoa. He expects half will come out around Easter. O'Leary chairs a committee focused on improving gun safety and says usually only a portion of an animal is seen.
"We emphasise you don't shoot a piece of animal, or colour, or movement. The crazy thing is almost everyone who shoots someone else absolutely declares what they saw was an animal. When we interview people and look the coroner's reports, we can just about write the report because they always say the same thing." says O'Leary.
Looking through a telescopic sight to identify a deer produces tunnel vision, says O'Leary.
"The brain takes over and they convince themselves what they're seeing is an animal. The sad thing is we're not talking about young, inexperienced shooters. We're talking about old and experienced."
Accidents happen in the context of increasing gun ownership.
O'Leary says the number of people nationwide applying for a firearms licence has more than doubled the past six or seven years and "95 per cent" say they want to go hunting. Police say 19,320 firearms owners had their licences issued in the Bay of Plenty.
Inspector Kevin Taylor says district firearms staff estimate there could be 11,000 to 12,000 licence holders in the Tauranga/Western Bay areas. Technological advances such as electronic deer callers, drones and GPS tracking devices can make hunting more successful, but experts say that only by following basic firearms rules can hunters become more safe. They recommend: loading weapons just before shooting; pointing the gun in a safe direction; wearing hi-vis clothing (not a legal requirement); and making sure others know your plans.
While overseas trophy-seekers gain attention for spending tens of thousands of dollars on helicopters, guides and lodges, local hunters say most Kiwi woodsmen-and women hunt for food.
Says Outdoorsman Headquarters store sales assistant Cliff Graham: "A lot of it has to do with the economic level of people in the Rotorua area. They're not in a trophy-hunting area, they hunt for meat. Ninety per cent of New Zealanders hunt for meat-it's for the pot."
Bill O'Leary says NZ Deerstalkers hopes to save lives through education.
"Just like the road-safety people hammer messages, but we know come Easter, the road toll isn't going to be zero, that people make mistakes. We hope our hunters are listening to the messages, they'll think it through and have a safe Easter this year."