When's the last time you visited the corner meat shop for a steak or sausage? While some butchers in the Bay of Plenty are looking to expand, others have closed their counters for good. 48 Hours reporter Dawn Picken talked to meat merchants about how they're making—and changing—the cut.
KEVIN REARDON says he picked up a butcher knife out of necessity.
"I left school because the missus was pregnant when I was 16 and I had to find a job."
That was 30 years ago. Kevin says he moved back from Australia 18 months ago and bought Redwood Butchery in Rotorua to run with his son.
"It's hard, but we're lucky we got a good store and good customers," the 46-year-old says. "Prices, they fluctuate, so you gotta be clever. We're never gonna be millionaires, but it's an all right lifestyle."
Kevin says clients are like friends, coming in for a 'yap,' a moan or a laugh.
" . . . bring in the race papers, talk about the football . . . I always make time for everybody. I just wanted to be that little traditional butcher shop on the corner and I like being in the suburb."
Like many small butcheries, Kevin and his son, Quinny, make everything on site. Kevin doesn't fret about supermarkets.
Our opposition is ourselves. I don't worry about anybody else.

SHARE THIS QUOTE:
Redwood's meat all comes from New Zealand, with sausages and bacon the biggest sellers.
"Our Redwood homemade bacon, my son does all of that, since he thinks I don't know anything."
Kevin sells free-range pork and chicken, and many items are gluten-free. He says customers are buying quality over quantity.
"People have gone from bigger cuts to smaller cuts with more vegetables, which is good."
Numbers of traditional butcher stores have plummeted, according to Beef+Lamb New Zealand chief executive Rod Slater. He says Retail Meat NZ, which represents supermarkets and independent meat shops, had 2000 independent butcher members nationwide 30 years ago. Slater says today, that number is 80 (Retail Meat NZ estimates just one third of independent shops are members, so the number of corner meat shops nationwide could be as high as 240).
"I can promise you it's a decrease, because shops are closing all the time, with the stronger guys [supermarkets] opening six or more stores each year. They're selling meat and the population is not expanding at that level."
Slater says good independent shops can still do well, especially if they actively market their products. Retail Meat NZ says 85 per cent of total meat volume is sold via supermarkets and chains. Visit Merivale Butchery in Tauranga and you'll see thick sirloin steaks, lamb legs, free range pork-and oversized sausages.
Owner Jason Clark calls them 'Big Boys'.
"Normal is 100 grams; the Big Boy is 176 grams. It's all beef and lamb."
While Jason has yet to find a gluten-free recipe he likes, he prides himself on making 600 to 1000 kilograms of sausages at his shop each week.
"We don't pile them up full of rubbish. It's pure beef and pork . . . we don't load them up with fat. There are no artificial binders. Some people put rusk [fine, unleavened bread crumbs] in sausages, which absorbs three times its weight in water." Jason bought the butchery just over a year ago after working as meat manager for a supermarket chain. "I wanted to get back to what I was doing, make my own sausages, bacon, etc . . . "
He says he's noticed government regulations have become stricter during his 20 years in the business.
"It's good, in one way, ingredient labels and trying to come up with traceability, tracing to where something was sold from."
Jason says Merivale Butchery focuses on service and quality, with prices comparable to supermarkets. Jason encourages meat eaters looking for value to check mutton and mince.
"We have mutton packs, which feed a mass amount."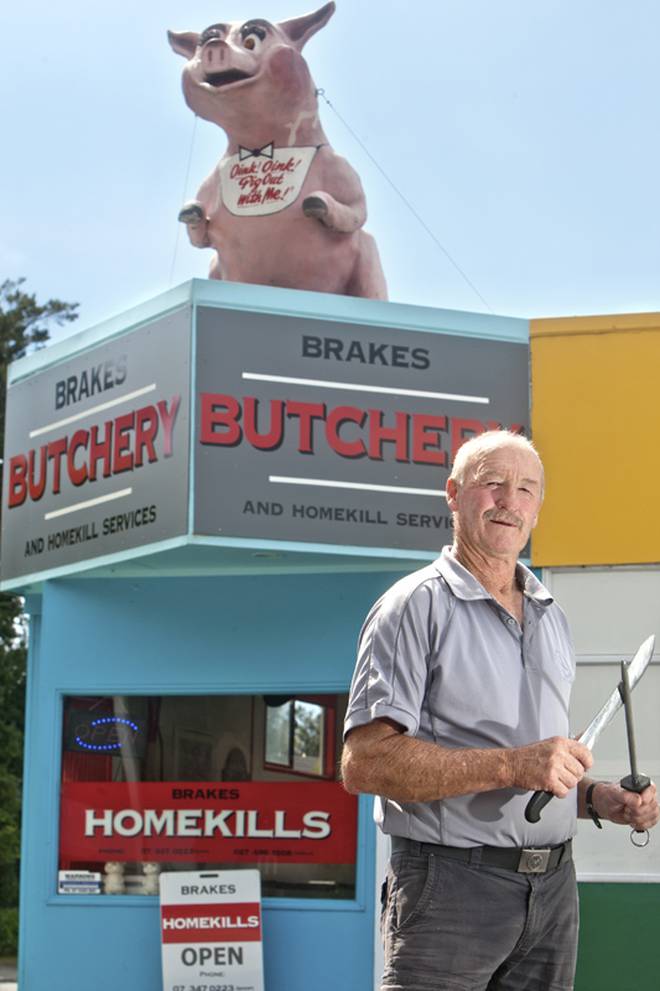 Other independent butchers in the Bay include the Meat Shoppe on Tutanekai Street in Rotorua; Col's Butchery and Farmer Jones in Mount Maunganui; Classic Cut Meats in
Tauranga's CBD; Bethlehem Butchery; and Doug Jarvis English Butchery in Papamoa. Some shops offer online ordering and delivery service. The list of meat shops that have closed the past 18 months includes Russell's Quality Meats in Rotorua; Cambrian Meats in Tauranga; and Steve's Traditional Meats in Te Puke.
Glenn Brake, who bought Russell's five years ago, at one time owned three shops. The 60-year-old closed his last retail shop six months ago.
Still, Glenn is considering returning to retail because former customers are asking him to.
"I might reopen and go small. . . and not try to do too much."