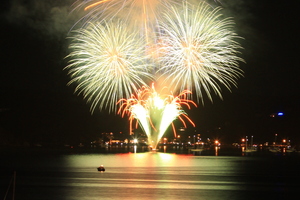 Snap, crackle, pop. No it's not a tasty cereal, it's the noise we're having to endure now as a result of Guy Fawkes.
Like it or not, Guy Fawkes is part of society and each year around the start of November families are letting rip with their boxes of explosives.
Not many of us know the real reason behind Guy Fawkes, it's simply seen as a good time and fun for kids.
Personally, I'm not that much of a fan.
I think public fireworks displays are amazing but the boxes of fireworks you can buy during the restricted four days leading up to Guy Fawkes are a bit naff.
Then there's the fact they are highly dangerous in the wrong hands.
If you have a responsible party and follow all the rules, fireworks at home can be great. But let's face it, it's not always like that.
People and animals get hurt and property gets destroyed.
But those are the rules and we are stuck with them for now. What I would like to see, however, is a restriction on when you can let the things off.
For those who don't like it, why should most of November and, at times the rest of the year, be open for fireworks? With frightened children and animals, it's hard to plan.
I believe four days before buying fireworks and a week after Guy Fawkes would be sufficient. This would allow for weekend parties if November 5 happens to fall on a Monday.