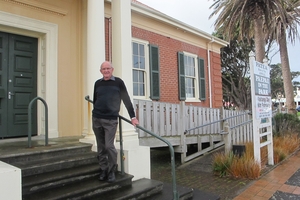 The magnitude 6.6 earthquake and series of aftershocks centred at Seddon in Marlborough nearly two weeks ago, and widely felt throughout central New Zealand, has forced the closure of an iconic building in Patea.
South Taranaki District Council chief executive Craig Stevenson said the Hunter Shaw red brick single-storey building, built in 1930, was closed to the public last week. Cracks were found inside the building after the Seddon quakes.
The closure was sparked after Plunket NZ, one of the community users of the building, asked for guarantees about the building's structural integrity.
Patea Community Board member Ian Ward said a full structural engineer's report on the building should be through within the next two months.
"It's a wonderful old building; it's quite a landmark in Patea and it would be terrible to lose it."
Even existing cracks on the outside of the building had lengthened and deepened, so the building just had to be closed, Mr Ward said. "The thing is this building is so loved by the community that whatever work needs to be done, local people will make sure it is done. Everyone would just hate to see it go."
Mr Stevenson said the council recognised the historical significance of the Hunter Shaw building and had asked the engineer to look at all options for the building's future.
The building is listed as a heritage building in the council's district plan.
It is listed as a category 2 heritage building by the Historic Places Trust.
The building was given to the town in 1930 by farmer Hunter Shaw to be used as a library and Plunket rooms.