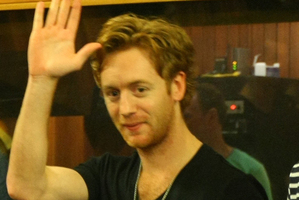 What was your greatest holiday?
Rarotonga last year with my girlfriend Jacquie. Our friend flew us over to Aitutaki Island, which was the most incredible place I have ever been to.
If we bump into you on holiday, what are you most likely to be doing?
Probably drinking beer at an inappropriate time of day.
What's your dream destination?
I would love to go back to Aitutaki - but, if not, a beach with a bar is pretty much me.
What's the dumbest thing you've ever done when travelling?
I've done it several times. I have a bad habit of donating my headphones to hotel staff around the world. I have to call my travel insurer pretty much after every trip.
What was the most memorable meal you've had while travelling?
For all the wrong reasons I had the worst sausage of my life at a restaurant in Paris.
I asked for the local dish and he brought out a sausage that smelt like the inside of a boot and tasted just as good.
Complete this sentence: I can't travel without ...
My iPhone and noise-cancelling headphones.
What's the best travel tip you've ever been given?
I've never been given a travel tip, but my own advice would be enjoy yourself and don't be cheap.
What's the best thing you've brought back from a trip?
I bought a gold ring for my girlfriend in Prague which I thought was the most amazing present but to this day I've never seen her wear it. So apparently it wasn't that great.
Favourite airport to land at?
Probably Heathrow. England. It's annoyingly awesome that you have to walk to for half an hour to get to your gate.
What's the next trip you've got planned?
After we get back from the States (we're in New York) we head out on a 14-date Australasian tour (this month) and then in May we head back to Europe, where we will be based in Berlin for six months, to release our album and tour.
So I don't really have a holiday planned any time soon, but I am going to some of the coolest places on the planet so I'm sure I'll find a beach and a bar somewhere along the way.
Ji Fraser is lead guitarist in Six60. The band will play 10 shows nationwide in April, including Auckland at The Powerstation on April 11 and 12.