The razor gang behind a new stage production of Sweeney Todd talk to Dionne Christian about bringing the mythical murderer to musical life.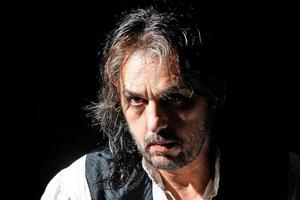 Four hundred pies, litres of fake blood, bucket-loads of flour and one of the largest casts seen in a locally produced musical in recent years - these are the ingredients for the latest re-telling of Stephen Sondheim's Sweeney Todd: The Demon Barber of Fleet Street.
Jesse Peach, who produces and directs the musical splatter fest, wants the Auckland production, with a cast of 20 and a live orchestra, to transport audiences to Victorian London where life is nasty, brutal and short, and a barber and baker could have got away with mass murder.
"It could well have happened so it's important that everything on stage has a ring of truth to make it much more like a real story," says Peach.
Playing the musical as "based on fact" will do nothing to dispel one of the world's most enduring urban legends that Sweeney Todd - last played by Johnny Depp in Tim Burton's big-screen version - was a real person.
Todd has been around since 1846, when he featured in a "penny dreadful" novel. Originally the Sweeney character was a barber who butchered his clients purely for greed, looting the bodies for money after he had slit their throats, then passing each corpse to a Mrs Lovett to bake into pies.
Sweeney made such an indelible impression that a stage version, advertised as being based on real-life events, appeared within a year of the serial's publication. From then on, there have been more plays, songs, film and television versions, and even a ballet featuring the razor-wielding assassin.
Peach is using Stephen Sondheim's 1979 musical, which re-cast Todd as a wronged everyman whose motive for murder was revenge after he was falsely charged with crimes he didn't commit and transported to Australia. Years later, Todd returns, determined to exact vengeance on the society he believes destroyed his life.
In keeping with the original, Todd's partner in crime is the pastry-cook Mrs Lovett, whose creations aren't exactly flying off the shelves - until Todd lets her have the bodies of his victims to add a special zing to her baking.
Claims that Sweeney and his crimes were real are as old as the tale itself but recent research appears to show he was most likely fictitious. There are no reports of sinister goings-on at St Dunstan's Church, where he allegedly hid body parts not suitable for consumption, nor any records of a nascent police investigation or newspaper stories about the grisly crimes.
But, as Peach says, in a city as overcrowded and transient as 19th century London, it is entirely possible a Sweeney-like figure could have existed amid the squalor.
A former regular on Auckland's musical theatre circuit, Peach has always been a fan of the genre. He says Sweeney was the perfect production to stretch his directing skills. It uses a large cast and he enjoys the energy which comes from working with big groups. As a bonus, it is composer Stephen Sondheim's 80th year.
The 26-year-old founder and director of Peach Theatre Company started work on the musical within weeks of finishing The History Boys, starring George Henare, which played to sold-out houses at the Maidment last October. Market research showed 60 per cent of the audience had never attended any theatre event at the Maidment before, suggesting that Peach was breaking into new territory.
One of the toughest tasks was to assemble the cast and chorus to resurrect Sweeney and his world. Peach has spent the past six months and more auditioning, calling back and holding workshops to experiment with various line-ups.
The cast is an intriguing mix of known and rising talent. Michael Hurst, who once tutored Peach, plays the corrupt Judge Turpin and Paul Barrett, fresh from his sold-out solo show Tic Tic, is Turpin's obsequious right-hand man, Beadle.
It is Hurst's first stage role in two years.
"I was starting to go a little bit crazy and wanted to get back on stage. Originally, I was planning to juggle my role with another project but I am very glad I didn't. I can honestly say I have never worked on anything quite as complex musically as this is. It has the quality of a full-scale opera."
He says Peach made a smart decision booking the cast into vocal training well before rehearsals started.
Sophia Hawthorne and former NZ Idol singer Jessie Cassin take on two of the main female roles, while the chorus includes Outrageous Fortune's Antonia Prebble and veteran and multi-award-winning entertainer Ray Columbus.
Peach chose two well-established but less high-profile leads. Mrs Lovett is played by Lynda Milligan, who has featured in more than 90 Christchurch productions but has never performed in Auckland. Peach called her before he had the rights to stage the production, saying he wouldn't have proceeded if she had been unavailable.
"She is just perfect for the part. She has a big voice, the right kind of sexiness."
Milligan accepted immediately, even though she knew little about the production, saying she wasn't about to turn down such a huge opportunity.
Ross Girven plays Sweeney. A household name in the late 1990s and early 2000s, he has spent a number of years commuting between his Auckland home and Australia, performing in and later directing the blockbuster musical We Will Rock You.
"I told my agent I wanted to be in Sweeney in any role really, because it is such a huge and major work; the Everest of musicals.
"It is complex and beautiful and challenging."
Girven says Tim Burton's 2007 film, starring Johnny Depp and Helena Bonham-Carter, was visually stunning with enigmatic and intelligent performances from its stars but the movie version stripped the story - and music - down to its bare bones and made it far less intense.
He points out that on stage a large chorus is like a narrator, using song to ratchet up the tension and fill the audience in on what's happening in case they're covering their eyes, too scared to watch.
"The chorus didn't exist in the film; didn't sing one note. Sweeney is actually an enormously theatrical piece and there's something special, spine-tingling, about seeing it in a theatre."
Girven says he wasn't worried about signing up for a production less well-financed than the international touring productions he has worked on.
"There's a fantastic, committed and passionate group of people involved with this. Once you've got that, that's the best way to start something. It's not all about budgets, it's about relationships and the industry needs people who, like Jesse, go 'we're doing this!"'
LOWDOWN
What: Sweeney Todd: The Demon Barber of Fleet Street
Where and when: Maidment Theatre, June 3-26