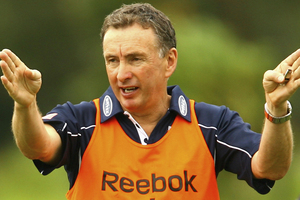 Wellington Phoenix coach Ernie Merrick faces a goalkeeping conundrum for his side's opening game of the A-League season against the Brisbane Roar at the Cake Tin on October 13.
With first-choice gloveman Glen Moss likely to be away on international duty with the All Whites, a range of other issues have sprung up for the players who could cover Moss.
Back-up Lewis Italiano, who was signed from the Perth Glory in the off-season, has an ankle injury and won't be fit, while Team Wellington custodian Jacob Spoonley, who played for the Phoenix once last year in similar circumstances, will likely be Moss's deputy with the All Whites.
Auckland City goalkeeper Tamati Williams, who took over from Spoonley as Auckland's No 1 last summer, is another option but it's understood City aren't keen on loaning him to the Phoenix for a one-off game given they're heading to the Club World Cup in December.
Then there's James McPeake. The 22-year-old made two appearances for Team Wellington in the 2008-2009 domestic season before riding the pine the following summer.
McPeake spent a year at Fairleigh Dickinson University in the US in 2010 and was part of the New Zealand under-20s squad in 2011 but missed the youth World Cup in Colombia that year due to injury and was then plagued by knee troubles for a couple of seasons.
After regaining fitness this year, he was the No 2 choice for Wellington club side Olympic behind Andrew Withers but was then curiously given a Team Wellington contract for the upcoming ASB Premiership season and has spent the past two months training with the Phoenix.
If the Phoenix can't arrange a short-term loan for Williams, a process Merrick described as ``an ongoing discussion'', then McPeake could go from being No 2 at his club side to starting an A-League game.
Merrick said he had no doubt the athletic McPeake, who is a sharp shot-stopper and has impressed goalkeeping coach Jonathan Gould, could do a solid job if required.
``James has never trained as hard as he's training now so he's facing hundreds of crosses and shots at training twice a day sometimes and he's working with high-quality people,'' Merrick said. ``He's lost a lot of weight, he's extremely fit.''
Spoonley could be an option for the Phoenix if All Whites coach Ricki Herbert selects either Jake Gleeson or New Zealand under-23 keeper Michael O'Keeffe to play behind Moss next month.
Meanwhile, the Phoenix side to play against New Zealand A in Rotorua on Sunday, which will likely feature McPeake and Spoonley splitting time in goal, will be a shadow XI that Merrick will employ for the side's opening game of the season.
With the All Whites expected to be away playing friendlies, Merrick will have to send a youthful side out against the Roar.
The Phoenix added 20-year-old Josh Brindell-South to their roster this week to take them to the A-League minimum of 20 players but Merrick has indicated he wants 22 to 24 players on the books so he can run 11 on 11 drills at training.
One-cap All White Cameron Lindsay is a strong chance to be released from the final year of his contract in the coming days as he doesn't feature in Merrick's plans.
The Phoenix have one import spot left and Merrick would like to provide depth to his midfield to strengthen his 4-3-3 approach but also noted he could sign two young players who he could develop for the cost of one overseas player.
The club will continue to trial more players ahead of the new season.
- APNZ