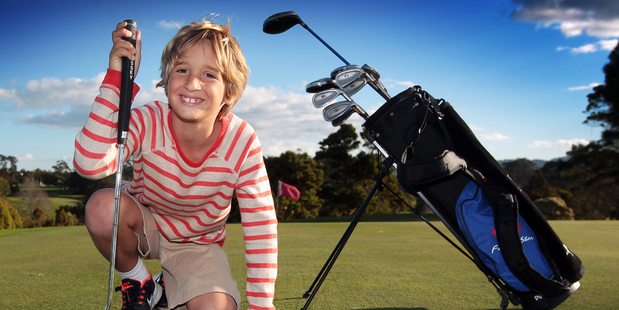 Tiger Woods, Phil Mickelson, Ernie Els, Robby Turnbull. Spot the odd one out.
It's ridiculously early but Robby, of Auckland, could one day be jostling for position on the podium of golfing greats - even though he's only 6 and goes to Remuera Primary.
He finished fourth in the US Kids Golf World Championship this month at Pinehurst, the famous North Carolina course.
The title was taken by runaway winner Jinki Yano of Japan and Robby was one of only five in the field of 70 to shoot under par. He also shot the best round of the final day, a three-under par 33.
The tournament is played over three rounds of nine holes, because of the age of the competitors.
Coach Terry Young says Robby has been under his care since he was 4. "He played really well - two-under on the first day, one over on the second and the best round of the day on the final round. He's already getting noticed; he comes up here to Mangawhai to play and I take him to Maungakiekie Golf Club (in Mt Roskill), where he's already got a scholarship.
"It was interesting in the US - he got a lot of comments about his swing being the best in the field. We have tried to model his swing on Hogan's [golfing great Ben Hogan, one of only five players ever to have won all four golf majors] and I have shots of him and Hogan swinging in almost identical positions."
Father Troy, head of tennis coaching at the Remuera Rackets Club, said Robby was also a good tennis player. "But we are focusing on golf at the moment. He did start young but, in my view, if you don't start your kids young, at an age when they are learning everything, you are automatically a step behind. You can't wait until they are 12."
Maybe Robby will one day rub shoulders with Charlie Woods, Tiger's 4-year-old. This week, however, Woods said he would not push his boy into golf. "If he decides to play another sport or not play any sports ... as long as he's happy and enjoys his life, I'm there to support and guide him in his life, and that's what it's all about."