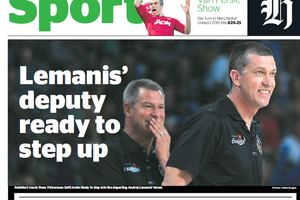 A brief look at the sports stories that are making news this morning.
In the paper
Lemanis' deputy ready to step up
Dean Vickerman's time has come as Breakers coach Andrej Lemanis looks set to be named to take over Boomers.
Vickerman's CV
Coaching career: Wellington Saints coach (2002), Melbourne Tigers assistant (2004-06), Singapore Slingers assistant (2006-07), Breakers assistant (2007- ), Waikato Pistons coach (2009-11).
Co-captain to right the ship
With the Chiefs' legs looking a little wobbly in losing to the Reds and Waratahs on successive weekends, the return of hard-working lock and co-captain Craig Clarke could hardly have come at a better time.
Missing link?
Clarke has missed the Chiefs' last five matches because of a concussion injury suffered in the team's loss to the Stormers in Cape Town on March 9.
Parker's apology ends suit
New Zealand Cricket has adopted an eyes-to-the-front approach to the dispute between national captain Brendon McCullum and former international John Parker, writes David Leggat.
Overnight news
Gayle smashes fastest ton
Chris Gayle struck the fastest ever Twenty20 century from just 30 balls during a record-breaking innings for the Banglore Royal Challengers in the Indian Premier League overnight.
That's fast
The West Indian hit 17 sixes and 13 fours on his way to an unbeaten 175 from 66 balls against the Pune Warriors.
Cash increase for Wimbledon entrantsThis year's singles champions at Wimbledon will each receive 1.6 million pounds (NZ$2.9 million) after the All England Club increased overall prize money by a record 40 percent for the biggest total payout in tennis history.
Losers are winners
Prize money will go up 60 percent for singles players who exit in the first three rounds. A first-round loser will earn 23,500 pounds ($NZ42,600), up from 14,500 pounds ($NZ26,300) in 2012.
By the numbers
49th trophy of Sir Alex Ferguson's managerial career with the Manchester United English Premier League title.
20 league titles to Manchester United - a record.
13th title in 21 seasons for the club in the Premier League
Quote of the day
"I go home to my family and they go home to their Xbox."
Melbourne Storm veteran Jason Ryles puts his 10 years at the club in perspective