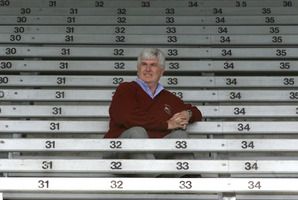 New Zealand Cricket has adopted an eyes-to-the-front approach to the dispute between national captain Brendon McCullum and former international John Parker.
The issue, in which McCullum sought an apology from Parker over comments made in a 77-bullet-point document critical of aspects of NZC's operations, was heading for the courts. McCullum had instructed his lawyers, Chapman Tripp, to sue Parker for defamation if an apology was not received.
Parker, spokesman for a group including many former players, as well as national captains, yesterday did apologise for comments that McCullum knew all along about coach Mike Hesson's plan to remove Ross Taylor as captain.
Parker's apology acknowledged he had not intended his comments to mean McCullum was involved in the process of removing Taylor as captain.
"John Parker did not intend to discredit Brendon McCullum and sincerely apologises to him for any harm to his reputation which may have been caused," said a statement signed by Parker and released yesterday by Chapman Tripp.
"Both [Parker and McCullum] have examined and resolved their differences successfully and no legal proceedings by either party will occur."
McCullum last week said Parker's paper "makes some very serious attacks on my integrity, my honesty and my ethics as a professional captain".
NZC yesterday welcomed the resolution of the dispute.
"NZC respected Brendon's efforts to protect and restore his reputation after the allegations raised in the so-called 'Parker Report', and Mr Parker's apology and retraction has accomplished that," NZC chief executive David White said.
"Hopefully we can now focus on both the Black Caps' upcoming tour of England and the governance review of NZC."
The New Zealand team leave for England on Monday where they will play two tests, three ODIs and two T20s against the hosts, along with contesting the 50-over Champions Trophy in May and June.
The Parker Group's position on the New Zealand captaincy became the high-profile item among a raft of concerns it has had over NZC's governance of the game.