Dean Vickerman's time has come as Breakers coach looks set to be named to take over Boomers.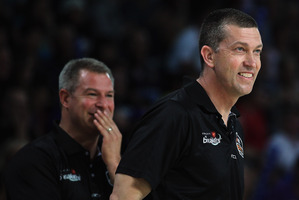 When Andrej Lemanis was appointed Breakers coach eight years ago, Paul Henare didn't really know what to think other than hope Lemanis would last more than one season.
The club was going through considerable growing pains with two coaching changes in its first two seasons and those issues weren't restricted to events on the court.
Eight years later, Lemanis is on the verge of leaving one of the most successful basketball clubs in ANBL history. The Breakers recently won their third straight title, matching the record set by Sydney between 2003 and 2005 as the only clubs to win three consecutive titles.
With Lemanis confirmed as Australian coach today, assistant Dean Vickerman is likely to step up as head coach. The Breakers supported Lemanis' bid to become Boomers coach, believing they had a succession plan in place with Vickerman and Judd Flavell working alongside Lemanis since 2007.
It would create a vacancy on the coaching team, with Henare, Pero Cameron and Dillon Boucher candidates to step in as an assistant.
Henare, who is coaching Southland in this season's New Zealand NBL after a stint with Hawkes Bay, said he was "definitely" keen to rejoin the club he spent eight years at as a player and Boucher, who recently retired as a player and will join the corporate team, would also consider the role.
"I feel like I have a lot to offer on the basketball court," Boucher said. "I haven't exactly put my hand up for the job but if they were to float the idea past me it would definitely be something I would consider.
"Whether I fill an assistant coach's position or not is irrelevant. I will still be in and around and trying to help the team succeed because, as far as I am concerned, if you are part of the [Breakers] family then you are part of trying to make this thing work. I have a lot of expertise to offer no matter what my position at the club."
Both Boucher and Henare endorsed the candidacy of Vickerman and he takes over with the club in a strong position. Boucher is the only player who definitely won't be back next season, although league MVP Cedric Jackson is expected to be close to tying up a deal to return to the NBA.
"There are plenty of people out there who want the job," Boucher said. "Dean would be the obvious choice and probably deserved to be a head coach five years ago. He's done his time and thoroughly deserves it.
"I think he's going to take confidence going into this role knowing the players he's got. He will try to stamp his authority on what he's doing but he knows the players, knows what has gone on in the past and knows the team has been left in good hands."
Lemanis was a controversial appointment when he took over after a dismal 2004/05 season. Most expected Tall Blacks coach Tab Baldwin to get the job but Lemanis was preferred.
"The first time I met him I thought, 'Man, can we have a coach longer than one season without any disruptions'?" Henare said. "I just wanted the club to be successful and hoped Andrej was going to help us do that.
"One of the things I liked about him was he was all about putting in the work on and off the floor and holding people accountable. He was able to still stay true to who he was as a coach and person but still find a way that was better than before."
Dean Vickerman
Playing career: Melbourne Tigers (1990-92)
Coaching career: Wellington Saints coach (2002), Melbourne Tigers assistant (2004-06), Singapore Slingers assistant (2006-07), Breakers assistant (2007- ), Waikato Pistons coach (2009-11).
- APNZ