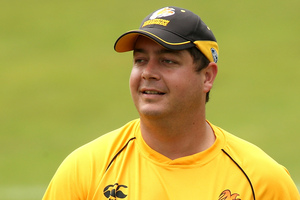 As injured cricketer Jesse Ryder continues to recover from a bashing that left him in an induced coma, his alleged attackers prepare to appear in a Christchurch court today.
A 20 -year-old and 37-year-old have been charged with assault and will appear in the Christchurch District Court this morning.
Ryder suffered a fractured skull and a punctured lung from the attack outside a Christchurch bar and was now recuperating at his Wellington home.
His manager Aaron Klee said the 28-year-old was "thrilled" to be home.
"It's been a hard week so he just wanted to get home."
Ryder spent two days in an induced coma in intensive care following an attack outside Aikmans Bar in Merivale early last Thursday.
He was brought out of the coma on Saturday.
"He's been doing well over the last couple of days so just needed to complete all the testing they wanted to do in hospital and then they were happy to let him go home," Mr Klee said.
"He's still very tired and still struggling energy-wise with the effects of the concussion, but he's obviously well enough to be discharged from hospital and travel home, it's great."
Despite his speedy recovery, there was still work to be done, Mr Klee said.
"It's just amazing how quickly he's got himself back on his feet and recovering, so hopefully the rest of the recovery is as speedy, but we'll have to wait and see."
Read more: Jesse Ryder discharged from hospital, returns home
- APNZ