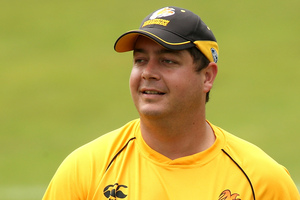 Jesse Ryder will wake up in his own bed in Wellington tomorrow, a week after he was punched and kicked outside a Christchurch bar.
The 28-year-old cricketer was discharged from hospital and was "thrilled'' to return home tonight, his manager Aaron Klee told the Herald.
"He was thrilled to be back home, he just couldn't wait. It's been a hard week so he just wanted to get home.''
Ryder spent two days in an induced coma in intensive care following an attack outside Aikmans Bar in Merivale early last Thursday.
He was brought out of the coma on Saturday.
"He's been doing well over the last couple of days so just needed to complete all the testing they wanted to do in hospital and then they were happy to let him go home,'' said Klee.
"He's still very tired and still struggling energy-wise with the effects of the concussion, but he's obviously well enough to be discharged from hospital and travel home, it's great.''
Ryder's family were also relieved the ordeal was over.
"The rest of his family is back. It's been hard work for all of them. They're very drained and tired as well, so it's good for them to be able to get home so they can get back to normal as well.''
Despite his speedy recovery, there was still work to be done, said Klee.
"It's just amazing how quickly he's got himself back on his feet and recovering, so hopefully the rest of the recovery is as speedy, but we'll have to wait and see.
"He needs to get lots of rest at the moment and I'm sure he'll have some follow-up work to do with the medical professionals, but at the moment it's just rest and that's what he's looking forward to now.
"He can rest at home a lot better and sleep better and that's what he's going to do need to do for the foreseeable future.''
Two men, aged 20 and 37, have been charged with assault, and will appear at the Christchurch District Court tomorrow.