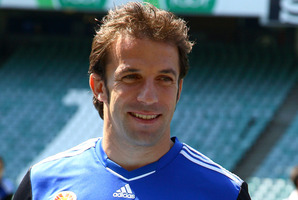 The Alessandro Del Piero effect proves every A-League soccer club should have a marquee player, says Sydney FC coach Ian Crook.
The Sky Blues have experienced unprecedented interest surrounding the Italian superstar's first home game with a record regular-season crowd of over 30,000 expected in Sydney today.
Making the match a genuine blockbuster is Del Piero going head-to-head with Newcastle's own star recruit, former England striker Emile Heskey.
The buzz is set to continue the following Saturday when Sydney clash with A-League newcomers Western Sydney who boast Japanese playmaker Shinji Ono.
"I've said all along if we can get a situation where everybody has one [a marquee player] then fantastic," Crook said. "I know it's easy for me to say, it's not my money that's being spent.
"But I think the hype built around Emile and Alessandro this weekend and then next weekend with Alessandro and Ono is fantastic.
"If we can have those situations each week it would be fantastic."
Crook, who said Del Piero was almost like part of the furniture at the club after only being in the country less than a month, said the World Cup and Champions League winner's humility was most surprising.
"I can't explain how well he's fitted in," Crook said. "His quality is just fantastic."

-AAP