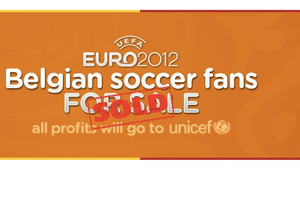 After their national team missed out on qualifying for Euro 2012 a group of Belgian fans decided to auction off their support for one of the 16 teams competing in the tournament.
Belgium finished third in their qualifying group, missing out on the European Championships for the third straight time. The nation hasn't qualified since 1984 and last played in the tournament in 2000 when they were joint hosts.
Sick of having no side to cheer for, a group of fans auctioned off their support after setting up a Facebook group titled - 'Belgian soccer fans for sale for Euro 2012', which attracted more than 20,000 members.
"Second hand but mint condition. Not been used since FIFA World Cup 2002," the Facebook group states.
"Once again we Belgians have no team to root for at the Euro 2012 soccer championship. Since tournaments are much more fun when you have a favourite team, we decided to put our fandom for sale at ebay," AFP reports.
The highest bid was from neighbours Netherlands for 3000 euros with all proceeds going to Unicef.
It seems the Dutch need all the support they can get after falling to Denmark in their group opener.