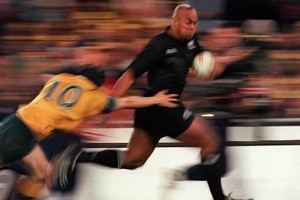 It came in the final moments on one of the biggest sporting stages. Jonah Lomu the "rhinoceros in ballet shoes" powered along the touchline to score the winning try against the world champion Australians in front of the biggest crowd in rugby history.
Lomu left Australian first five Stephen Larkham sprawling for the last-gasp try to beat the Wallabies 39-35 in the thriller in Sydney which many labelled the greatest test ever. For others the defence of both teams was too porous and scoring patterns too bizarre to rate as a true epic. The All Blacks gave up an early 24-0 lead to nearly lose.
But nothing could detract from the quality of the winning try. Down by a point in the final minute the All Blacks launched a final thrust to the Wallaby 22, won a quick ruck and halfback Byron Kelleher shovelled it to flanker Taine Randall, who threaded an overhead pass to a charging Lomu.
The big man swatted off Larkham and motored in to dot down in the corner to the joy of the tens of thousands of Kiwis in the 110,000 crowd. In the coaches' box high in Stadium Australia, All Black coach Wayne Smith grabbed his assistant Tony Gilbert and selector Peter Thorburn in joyous embrace.
Herald rugby writer Wynne Gray said at the time: "It was exhilarating, surreal and magnetic, right up there in the top group because of its speed and intensity, but with too many mistakes to qualify as the best in test rugby."
All Black supporters were brought down with a thud a month later at the Cake Tin in Wellington when an injury-time penalty by Wallaby skipper John Eales sank the All Blacks 24-23. The choker tag was born.
A more spectacular heatbreaker for All Black fans came six years earlier when a young George Gregan knocked the ball out of wing Jeff Wilson's arms as he dived for what should have been the try that saved the Bledisloe Cup for New Zealand.
"When he [Wilson] went for the corner I knew I was going to get him just in time. But if I was to make the tackle I had to drive up at his ribs and hopefully dislodge the ball and the plan worked," the Australian halfback said after the game in Sydney.
Wilson said he was haunted by missing out on the try.
The name Greg Cornelsen also caused All Black fans wakeful nights after his four-try effort at Eden Park in 1978 marked the revival of Australian self-belief in Bledisloe tests.
Other psychological pain has been inflicted including the Kearns two-fingered salute after his try in 1990 and Gregan's taunting the exiting 2003 World Cup All Blacks with "four more years boys, four more years". A pity it wasn't that simple.
Great tries:
1960: 1960: Peter Jones vs South Africa
1971: Ian Kirkpatrick vs British and Irish Lions
1987: John Kirwan vs France
1995: John Lomu vs England
1997: Christian Cullen v Australia
2000: Jonah Lomu v Australia
Tries against the All Blacks