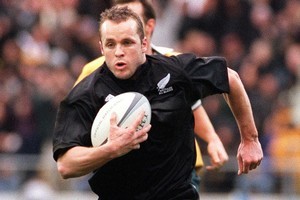 Christian Cullen's astonishing try at Carisbrook against the Wallabies in the Tri-Nations test of 1997 was but one of many remarkable aspects of what was a somewhat freakish test.
French referee Joel Dume, apparently because of his language difficulties, lost some control and especially in the second spell went whistle-happy, awarding a staggering 42 penalties, 26 in the second spell alone.
And after being up 36-0 at half-time, the All Blacks, probably because of being unsettled by the refereeing, went scoreless in the second spell whereas the Wallabies scored 24 points.
There was also a rather unseemly scene when Justin Marshall was substituted at halfback with 17 minutes left for Ofisa Tonu'u and did little to conceal his annoyance. Subbing was relatively new in 1997 and players were not as used to it as they have become in recent years.
But while it was a game which provided plenty of headlines the abiding memory was of Cullen's try. The gifted fullback scored 46 tries in his 58 tests, many of them stunning individual efforts, and his tally was a record until overhauled by Doug Howlett.
Cullen's Carisbrook special was arguably the best, particularly when the quality of opposition was taken into account. In an 80m run he embarrassed an Australian backline which contained some great players like Stephen Larkham, Joe Roff, Ben Tune and Jason Little.
The try began with another player of individual genius in No8 Zinzan Brooke, who took an attempted clearing kick from Larkham and immediately hurled a long pass to his left to Cullen.
In many ways Cullen's try was executed with a deceptive simplicity for only one of the Wallaby defenders was beaten one-on-one.
Rather than being turned inside out the rest were left stranded by Cullen's acceleration and ability to change his pace and surge again when he suddenly burst into the clear after running on to Brooke's pass.
John Hart was All Black coach in Cullen's first four years in the side and recalls this try as being typical of his flair, especially in 1996-97 when he was able to beat even the many world class players in the Wallabies with his speed, acceleration and step.
Because of his ability to score tries like this Cullen invariably figures on any shortlist of the greatest All Black fullbacks. Whether he had the all-round qualities of some of the other legendary fullbacks like George Nepia, Bob Scott and Fergie McCormick, or a potent boot like Don Clarke, probably makes that a moot point.
Indeed, of the international fullbacks of the 1980s and 1990s Hart rates France's Serge Blanco as the best, but has considerable regard for Cullen. "At his best Christian Cullen was absolutely magic," he says.
The special niche he has is perhaps similar to that of Sid Going among halfbacks, in that, until he lost some of his zip after suffering a series of knee injuries in the early 2000s, he had incomparable attacking skills which made him a try-scorer supreme.
Great tries:
1960: 1960: Peter Jones vs South Africa
1971: Ian Kirkpatrick vs British and Irish Lions
1987: John Kirwan vs France
1995: John Lomu vs England
1997: Christian Cullen v Australia
2000: Jonah Lomu v Australia
Tries against the All Blacks