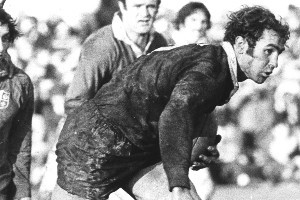 Poverty Bay and Hawkes Bay players on Rugby Park in Gisborne on July 10, 1971 would have wondered what was going on when the crowd erupted as they slugged it out in a dour wet-weather encounter.
Those in the grandstand rose as transistors tuned in to the second test against the Lions blared out commentator Bob Irvine's famous line, "And away goes Kirkpatrick ..."
Ian Kirkpatrick, one of Poverty Bay's favourite sons, was thundering down Lancaster Park swatting off Lions to score one of the great All Black tries.
"Somehow I ended up with the ball ... all of a sudden I was in the clear and I just kept running, hoping for the best. They made a couple of feeble attempts to tackle me and before long I was in the corner. It was one of those tries that don't happen too often," Kirky said of the try that started on his side of halfway.
"Even now I get people coming up to me to say they were there that day.
Going by the numbers who say it, there must have been thousands at Lancaster Park."
But a measure of modesty has always accompanied the try.
"I suppose now with everyone conscious of the TV cameras being on them I would have done something silly at the end like throwing the ball in the air," Kirkpatrick says. "But I've always felt a bit embarrassed about that one.
"It certainly was the most spectacular try I got in a test. But in the context of a game I'm not sure whether it was the most important. I've always relished the one I got against the Springboks the year before at Cape Town because that helped us win the match.
"You have to remember the try I scored at Lancaster Park came late in the game and the match was already won, with us ahead 19-6 and only five or six minutes left. It was just one of those things and it happened all so quickly.
"A few of them [the Lions backs] came at me but I was able to fend them off and just keep on running."
Fullback JPR Williams - whom Kirkpatrick reveres as one of the toughest defenders he encountered - almost toppled him but after a stumble, Kirkpatrick regained his feet and his unstoppable momentum.
British critics have raised the fact that in their pursuit of the rampaging Kirkpatrick, some of their backs - notably wing David Duckham - may have been obstructed.
But Kirkpatrick says the All Black in question, wing Bruce Hunter, was simply trying to give support should it be needed.
In the Herald, Terry McLean wrote: "The entire crowd of 57,501 stood to him and brought down the roof of heaven."
Kirkpatrick believes his try, in what eventually was a 22-12 win, was a slice of the good luck which didn't always go the All Blacks' way in the 1971 series. His home side didn't have much luck that day - Hawkes Bay won 15-12.
Try-scoring machines
Ian Kirkpatrick played in 39 tests and scored 16 tries.
He held that record for six years, until eclipsed by Stu Wilson in 1983.
Another All Black wing, Joe Rokocoko, raced to 17 test tries in one season in 2003.
Great tries:
1960: 1960: Peter Jones vs South Africa
1971: Ian Kirkpatrick vs British and Irish Lions
1987: John Kirwan vs France
1995: John Lomu vs England
1997: Christian Cullen v Australia
2000: Jonah Lomu v Australia
Tries against the All Blacks