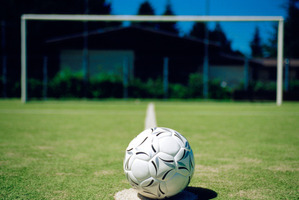 This is a wonderful moment for a soccer nut. It's not a bad one either for a viewer who thinks monopolistic Sky TV deserves a giant kick up the butt.
The new soccer broadcasting deal making every match in the English Premier League available online - live and on demand - is an absolute winner in my book.
At less than $5 a week for Coliseum's premium package (which includes features and analysis) it's a steal. Here's hoping the magazine shows provide a quality of coverage sadly lacking on Sky, the excellent ESPN Press Pass excepted.
Some soccer-only fans will quit Sky, without a doubt. In my case, it will mean trimming the Sky package by ditching the Rugby Channel, an overpriced, hardly used double-up anyway. That will cover nearly half of the extra cost to watch the EPL, a worldwide phenomenon.
On the down side ... even the low-cost Coliseum EPL package, which works out at $3 a week, will be a stretch for some, presumably.
There will be technology hurdles (and possibly costs), especially for the older brigade. But those frontiers are often not nearly as scary as they seem.
It's hard to know how genuine Sky are in declaring they went as high as they could and were simply outbid by Coliseum. All things considered, I'm glad they lost out - the Coliseum deal is an exciting window to the future of sports broadcasting. We are no longer beholden to schedulers and an empire. Assuming there are no technical hitches, the company is rock solid and the data cap situation is sorted, EPL nirvana has arrived.
Sky is not all bad, of course - their one-stop sports shop has been fantastic in many ways. But the monopoly is wearing thin with viewers, who are starting to understand that advanced technology should offer a flexibility that is not being translated into the choices we have in this country.
I'm sick of Sky on a couple of fronts. It bombards us with its own, garish advertisements yet provides very little quality feature/analysis programming.
The rugby coverage is sycophantic, although Sky is outdone there at times by the over-emotional hogwash that is passing for Australian league analysis (please, no more proud mothers of league players). Sky has treated domestic soccer harshly.
On the other hand, cricket continues to set mainly strong commentary standards and Andrew Voss is an excellent addition as the main league caller. Ian Smith is a quality rugby sideline eye. Sky has flooded our living rooms with the best of world sport. As I said, it's not all bad. But this is a watershed moment even if predictions are difficult in such a fast-moving age.
Returning high-level soccer - albeit a small amount - to free-to-air TV might boost the sport. Coliseum's bold move will open more eyes to sports viewing possibilities. Sky still holds the main contract aces and plans to make content available on mobile devices but its stranglehold has been eased in one vital area, the world game.