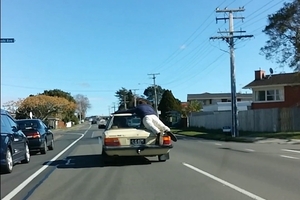 Bay of Plenty Police say two men have been charged in connection with video footage of a man "car surfing" posted on You Tube over the weekend with the heading "Car surfing in Tauranga."
Two 24-year-old Tauranga men volunteered themselves to Tauranga Police Station today. One was charged with dangerous driving and the other was charged with being party to dangerous driving.
They were due to appear in the Tauranga District Court on Friday.
Earlier, Area Prevention Manager for Western Bay of Plenty Inspector Karl Wright-St Clair said police were extremely disappointed to see an example of such stupid and dangerous behaviour and would be making further inquiries.
He called for people who witnessed and filmed the incident to contact the police as soon as possible.
"While instances of 'car surfing' are not common, there is no place for this type of mindless behaviour on our roads," said Mr Wright-St Clair.