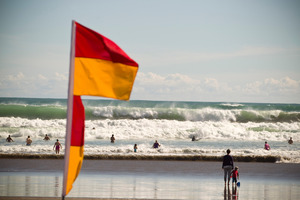 Surf lifesaving clubs up and down the country are preparing for the first day of the season patrolling New Zealand beaches.
United North Piha Surf Lifesaving Club president Willy Goer said he was expecting a fairly quiet first day of the season.
"Conditions are quite dangerous. I think this weekend we're not expecting too many of the public out here, we'll have more lifeguards than people on the beach."
The sea had become rough due to the southwesterly winds and there were always rips, Mr Goer said.
Swells were about 1.5 metres and "fairly messy" with offshore winds, he said. "Not the best conditions."
"The water's still fairly cold so I don't think we'll get too many [people coming out]."
Meanwhile, Brighton Surf Lifesaving Club in Dunedin is gearing up for their 75th birthday celebrations.
Lifeguard Alan Todd said it would be an important weekend for the club and they would be celebrating with surf-lifesaving competitions as well as conducting their usual patrols.
"It should be good, as long as the weather holds out....it's looking alright for now, but fingers crossed."
A duty lifeguard at Raglan surf lifesaving club, who declined to be named, said she wasn't expecting the day to be overly busy due to "messy" conditions.
"With the conditions I don't think that many people will be going into the water."
The surf was large in Raglan and the skies were grey, she said.
However, due to the long weekend "you tend to get a few people".
- APNZ