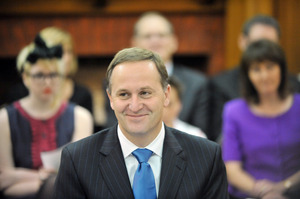 Prime Minister John Key may make a fast visit to Australia within a fortnight for early talks with new Prime Minister Tony Abbott.
Top of the agenda would almost certainly be the asylum seekers policy and what role New Zealand would play in any revamped approach under the Coalition Government.
Mr Key has a heavy travel schedule in the next month with visits to Europe, the UN and the Apec summit in Bali. He said yesterday he hoped to catch up with Mr Abbott before the Apec summit, where the Trans-Pacific Partnership Agreement will be the focus.
New Zealand reached an agreement with former Prime Minister Julia Gillard to take 150 asylum seekers approved from Australia's offshore processing centres, which would come out of New Zealand's annual 750-a-year refugee quota.
Her successor, Kevin Rudd, reached his own hardline agreement with Papua New Guinea, and Mr Abbott has pledged to make stopping the boats - which are launched mainly from Indonesia - a priority.
Mr Key said yesterday he held out no more hope than before that a Coalition Government would tackle the rights of New Zealanders living in Australia such as access to social welfare benefits and student loans, and participation in the national disability insurance scheme for the Kiwis who had arrived after 2001.
- additional reporting APNZ