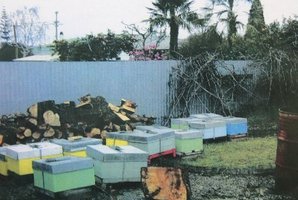 Stories making headlines around the regions include a swarm of bees leading to the scene of a crime.
A swarm of bees led an animal-control officer in Masterton to a haul of more than 30 allegedly stolen hives.
A TV psychic will attempt to contact dead pets in Rotorua next week.
Police are convinced that two men who attacked an 84-year-old man in his home just north of Te Kao live in the same tiny community.
Power was out across the Wanganui region this morning leaving customers stranded on a petrol forecourt.
A Havelock North property was targeted by police as part of a nationwide series of raids against the Mongrel Mob.
A highly experienced paraglider pilot who crashed into a tree and then fell 8m onto Marine Parade has been prosecuted.
A prominent Northlander is on trial for a number of sex and violence charges spanning more than two decades.
Stories making headlines around the regions include:
Steamers say no to bullying
Wanganui District Council backs off no smoking bylaws
Peer pressure pushes Bunny to bride award
Kidnapping accused in court
Discoloured water in Tauranga suburbs