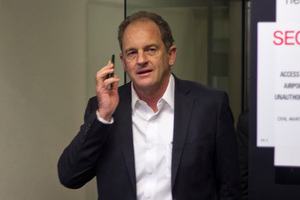 David Shearer took a cautious approach early in his leadership of Labour and during his initial honeymoon period the party recovered in the polls from its worst election result in generations.
However, when he tried to stamp his mark on the political landscape, he appeared to get little traction. His attacks on Prime Minister John Key often misfired and new policies got little more than a lukewarm response.
Having polled just 27.5 per cent in the election, Labour's support crept over the 30 per cent mark, according to major polls during the first few months of Mr Shearer's leadership.
During that period, he talked of getting in touch with the party's grass roots with a tour of pubs and clubs but wouldn't take a strong stand on the Ports of Auckland dispute.
Instead, he chose to deliver his first major speech, seen as setting a course for the political centre, at a conservative gentlemen's club in Wellington.
Nevertheless, by April 2012, Labour was at 34.8 per cent in the Herald-DigiPoll (see graphic above).
But while one of the first tasks Mr Shearer set himself was to steer his party through a critical reform phase, factional divisions within the party were still visible several months later over Manurewa MP Louisa Wall's bill to legalise same-sex marriage.
Labour took a dip in the polls around this time but recovered towards the end of the year, despite Mr Shearer's botched attack on Mr Key over his knowledge of the GCSB's involvement in the Dotcom raid and the spectre of a leadership challenge from defeated rival David Cunliffe at the November party conference.
By April, when the party announced its electricity market reform plans to cut consumer power bills, the party was enjoying its best poll showings in a couple of years, topping 36 per cent in both the Herald DigiPoll and the One News Colmar Brunton polls.
But just two months later the party had slumped by several percentage points and the knives were out, with party sources telling the media Mr Shearer had been given two months to make some gains or face the chop.
Further rumours his leadership was under threat bubbled to the surface in subsequent weeks.
Desperate looking policies such as a ban on foreigners buying houses made little difference to the party's support, with the party doing little more than holding steady according to polls early this month.
Mr Shearer's support as preferred prime minister peaked in March this year at 18.5 per cent, a long way off the 62.5 per cent Mr Key was drawing at the time.