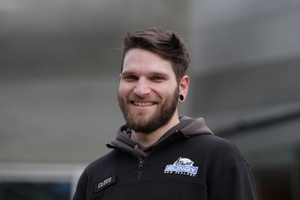 Life has imitated art for a Queenstown-based filmmaker who broke his neck after making a movie about a mate breaking his back.
Documentary maker Themistocles "Clees" Lambridis broke his neck mountain biking in Queenstown in March - the Greek resident was using a bike park season pass he won in last year's Adventure Film Festival contest for a documentary about a friend breaking his back paragliding.
Mr Lambridis smashed into a Queenstown Bike Park tree and spent three months in a "Halo" recovery brace.
Now, the 29-year-old has filmed a 15-minute documentary about his own experience and submitted it to the same film festival this year.
Head in a Vice will screen at the Winter Games festival tomorrow at the Earnslaw Park Games Village open to the public daily 10am-8pm along with other local short film competition finalists.
"It was sort of a bizarre twist of irony,"" Mr Lambridis said.
"It came full circle. I launched into a tree like a rocket at about 50km/h and smashed my C1 [vertebra] open in two spots.
"If it had shifted two millimetres in the opposite direction it would have clenched my spinal cord. So I was incredibly lucky in the way it broke and I felt like I'd been given a second chance."
Mr Lambridis works as a photo/video operator at the AJ Hackett bungy centre and co-founded local internet-based show Source TeeVee last year.
He also produces non-profit short films and documentaries through his jaggedmelonproductions.com website.
Before crashing, he got funding for a documentary about the Greek ice hockey team and was to travel to South Africa: "But I couldn't travel so I decided to re-appropriate my funds and obviously my motivation, time and energy. While I was stuck in a Halo brace for three months I filmed a documentary about it."
Mr Lambridis had three x-rays before radiologists changed the diagnosis from sprained neck and admitted him to hospital.
The break will have long-term repercussions and he's working with a physiotherapist: "It's relative but I'm not entirely fixed. Your C1, the top vertebra, is responsible for the glide and rotation of your neck. So I've got limited rotation."
Tim Pierce's feature-length documentary Winter of Wells: The Documentary has been chosen as the winner of the feature-length competition. Mr Pierce followed Wanaka's four Wells brothers on their global freeski adventures for two years.
The short film winner will be an audience vote on the night. Also in the frame are Pierce's mountain bike short film The Quiet Achiever, Lisa Tamati's Run the Planet about replicating an Aboriginal's legendary long-distance run and Julia Thrift's Pass, about the adventures of a Go-Pro camera called George.
- Mountain Scene