Father-of-two moved by public's generosity as $215,000 raised for surgery in six weeks.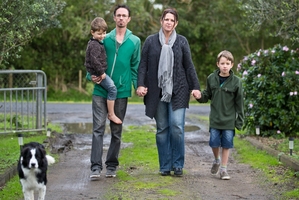 Robbie Ritchie never imagined he could raise enough money for an expensive lifesaving surgery in just six weeks.
The 33-year-old is surprised and humbled by the generosity of the New Zealand public who have donated or raised $215,000.
Mr Ritchie is flying to Germany today with his wife Jacqui for surgery on his brain, to be performed by a leading doctor.
He has an abnormal collection of blood vessels, known as arteriovenous malformation, and has an 80 per cent chance of a haemorrhage. That chance grows by 4 per cent every year.
The disorder causes seizures and life expectancy is shortened - but Mr Ritchie has refused to find out by how much as he wants to enjoy life with his wife and children Alex, 8, and William, 4.
Doctors in New Zealand say it is too risky to operate and have told him he has to live with the condition.
But six weeks ago, Swiss Professor Anton Valavanis agreed to perform surgery at the International Neuroscience Institute in Hanover. So the Ritchies, who live in Patumahoe near Pukekohe, set about fundraising.
Thousands of dollars have been raised through the Give A Little charity page. An entertainment evening was held with the comedian Brendhan Lovegrove as well as a 24-hour "REV-athon", where teams took turns on a spin-bike. About 40 auctions were held on Trade Me with donated items, mufti days have been held in about 25 schools and Mr Ritchie's colleagues at Mercury Energy raised $16,000, which was matched by company bosses.
Strangers have been walking into his work to donate.
"I was cleaning the car with my two boys ... and we found two cheques that we'd forgotten about. The community has been so amazing. I'm so grateful and humble." Mr Ritchie will be in Germany for about six weeks and will have to return in nine months for more surgery.
A German couple have offered the use of their home when Mr Ritchie is released from hospital. The children will be looked after at home by relatives.