Partner and fleeing revellers ditch wounded victim at Middlemore Hospital.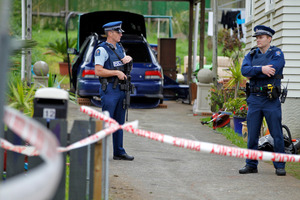 A man gunned down in his home was dumped at a hospital as carloads of rowdy partygoers - including his partner - fled the house before police arrived.
Heavily armed police were yesterday guarding the abandoned State-owned property in the Auckland suburb of Panmure.
One woman neighbour, who did not want to be identified, said she heard a loud argument between the man and woman who lived at the Coates Crescent home moments before the first two shots rang out.
Up to three more shots were fired as the party broke up with everyone piling into cars, she said. They left before emergency services arrived.
Police yesterday revealed the injured man was left at Middlemore Hospital. His injuries were not believed to be life threatening.
A neighbour said the two-storey house was packed with people at the time of the shooting and some wore gang patches. The couple had moved in four months ago and had three young children, including a baby.
Another neighbour who was about to quit the street yesterday said he had had a gutsful of the violence and obscene language.
"This is the reason why we are leaving," he said, motioning to the street's armed cordon.
Glen Innes police yesterday appealed for witnesses to contact the City Eastern Area CIB or call Crimestoppers anonymously on 0800 555111.