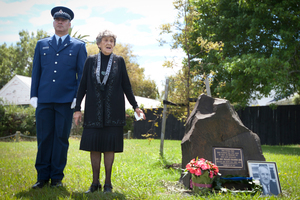 Two policemen who died in a shooting in West Auckland 50 years ago were remembered by their families and police yesterday in a wreath-laying ceremony at their memorial plaques in Te Atatu South Park.
Detective Inspector Wally Chalmers, 42, and Detective Sergeant Neville Power, 25, were killed by a gunman in Bethells Rd, Waitakere. So too was resident James Berry, 42.
Their deaths on January 6, 1963, and the killing of two constables three weeks later in Wellington, prompted the formation of the police armed offenders squad.
Both detectives' widows were at yesterday's memorial service.
Mr Chalmers' widow, May Mackey, said she and Mr Power's widow, Valerie Bright, "well remember this Sunday afternoon 50 years ago when we were both left with two little children".
A former matron of United Maori Mission hostels, Mrs Mackey went on to give 30 years to the Kaiwhakamana (Maori cultural) volunteers service to Auckland prisons.
Mrs Bright was supported by daughter Gwyneth Macdonald and son Ross.
She said she felt very emotional.
"I remember little things of that day, like Gwyneth was 6 months old and Ross was 18 months old and Ross just kept going to the window saying, 'Daddy come home'."
The news was broken to her by her father-in-law, Orme Power, who was assistant police commissioner in Auckland at the time and had four sons serving in the force.
Acting Waitemata district commander Inspector Les Paterson said the gunman, Victor Wasmuth, never faced trial and was permanently detained as a psychiatric patient.
He said Wasmuth was aiming at a third policeman when Mr Chalmers challenged him, drawing the fire to himself. "Four [police] men gave their lives [in Waitakere and Wellington] but think how many lives have been saved because of it."
These days, police had weapons in their vehicles and worked to a policy of "cordon, contain, appeal".
A Herald report three days after the Waitakere tragedy quoted Commissioner Leslie Spencer as saying it could not have been avoided, and Mr Chalmers' action was the best that could be taken in the circumstances.
"He followed the traditions of the police in trying to make an arrest without further bloodshed.
"But it is evident he formed the opinion this could not be achieved so he gave the order 'shoot to wound'," said the commissioner.
Detectives at the Bethells Rd scene had .303 rifles and a teargas pistol.
After Constables James Richard and Bryan Schultz were shot at Lower Hutt, the commissioner announced that dealing with armed people was to become part of general training and squads of police would be selected for special instruction on dealing with armed offenders.