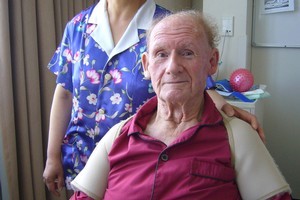 The partner of an elderly stroke victim, who failed to convince Auckland City Hospital to discharge him for Christmas, wants him home for the New Year weekend to prove she is capable of looking after him.
John Pinder, 82, is badly disabled by a stroke and wants to go home, but the hospital is seeking a Family Court order to move him into private care.
The hospital says Mr Pinder needs 24-hour supervision and requires assistance with all his activities. It does not think his partner, 54-year-old Jufan Zhang, will be able to manage his needs.
Mr Pinder, who is confined to a wheelchair, has chronic heart failure, high blood pressure, eye disorders, a recent hip fracture, and has a pacemaker and some compression fractures, according to a senior district health board social worker.
Ms Zhang, from China, is disputing the hospital's claim that Mr Pinder has significant cognitive impairment and has presented the hospital with a petition, signed by more than 40 of his friends, appealing for his discharge.
"To benefit John's health, we hope he can go home as soon as possible to enjoy his family life," it said.
Ms Zhang, who has been living with Mr Pinder since 2006, said she has relatives who are prepared to fly in from China to help with the 24-hour care.
Ms Zhang, who is unemployed, yesterday brought her bank statements to the Herald to show that she has term deposits and funds being regularly transferred from China.
She claimed the house she shares with Mr Pinder was also bought with money provided by her sister in China.
"I come from a relatively wealthy family and money is not really an issue. With a little equipment support from the DHB, such as a wheelchair and a hoist, I know I can provide the level of care required," Ms Zhang said.
Ms Zhang said Mr Pinder was feeling depressed in hospital, but was cheered on Christmas morning by friends reading him a Weekend Herald report about his fight to go home.
Auckland District Health Board general counsel Bruce Northey last week said the board tried to support patients in their own homes but wouldn't discuss Mr Pinder's case.
"There are times, however, when it is in the patient's best interests to receive private residential care - public hospitals only provide acute interventions," he said.