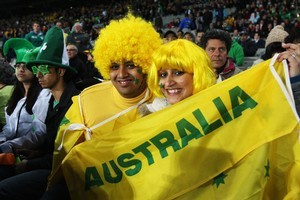 More than 8000 people have called on Kiwis to "lighten up" in our treatment of Australians, following reports of vitriolic abuse at the Rugby World Cup.
An online poll at nzherald.co.nz drew more than 14,000 votes - 58 per cent of them saying New Zealanders were being too nasty to Australian supporters.
Spectators at the weekend said the treatment of Wallaby fans had crossed a line - including spitting and telling Australians to "f*** off" home.
New Zealand and Australia have always had a rivalry in sport, but some visitors said they would not be returning after their experiences.
New Zealander Mike Henderson said he wore a Wallabies jersey to the match between Australia and Ireland because he did not have an Irish one.
"The Irish were all fine [but] the Kiwis all boorish, swearing and jeering at me," Mr Henderson said.
The New Zealand fans had been such bad sports it was a worry what would happen if the All Blacks lost in the tournament, he said.
Australian Alice O'Hara said she would not be returning to New Zealand after her experiences.
"I have been abused in the street, screamed at by my hotel cleaning staff, my friends have been kicked out of pubs and one of my travel companions has been threatened with a knife," Ms O'Hara said. "New Zealanders need to grow up, the racism is unbecoming and you do not deserve the honour of hosting such an event."
Many New Zealanders have written to the Herald offering apologies to Australian visitors.